'The Wheeler Dealers' on DVD
Category:
Blu-ray's and DVD's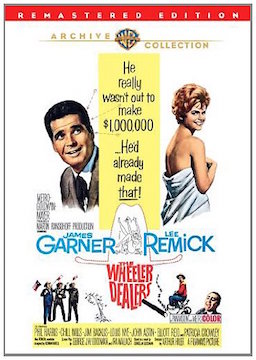 James Garner and Lee Remick star in the 1963 comedy The Wheeler Dealers. The film is about Molly Thatcher (Remick), one of the few women working on Wall Street, and Henry Tyroon (Garner), a master of making deals.
Tyroon is in need of a lot of money. This Texan goes to NYC to rustle up some cash – his way. Although he puts on a show of being a dumb Texan, in reality he is a highly educated Ivy Leaguer with the knack of making deals. His act helps him pull off some doozies.
When Thatcher is given an almost impossible job of raising interest and the bottom line of a company no one has heard of – Universal Widget – she joins forces with Tyroon. Although he has the good intentions of helping her with her job, he also has another motive. He is in love with her.
While the two work together on the Widget account, Tyroon is also making deals to help his own bottom line. By buying and selling things, he manages to put together some interesting transactions. Although the viewers might get a little confused about how he wheels and deals, that really isn't as important as the fact that he actually does it.
While he is dealing and wooing Thatcher, she is all business. She is intent on keeping her job and raising the female role in an almost male-dominated profession. But who could resist the charms of Tyroon? When he finds out she loves a restaurant, he buys it. When she mentions she likes a painting, he buys a bunch of paintings. But his goal is not only to impress her. He also has his finances in mind. Combining the two works out well.
Lee Remick's wardrobe is a knock out. This was the era of the beautiful Jackie Kennedy style and she carries it off wonderfully. The best part of the film, however, is James Garner. His expressions are priceless. He was nominated for a Golden Globe for his performance in this movie.
The Wheeler Dealers is part of the Warner Archive Collection and can be ordered directly from their website or where DVDs are sold. The film is not rated however there are no objections elements so it is suitable for all ages.
About the Author
Francine Brokaw has been covering all aspects of the entertainment industry for over 20 years. She also writes about products and travel. She has been published in national and international newspapers and magazines as well as Internet websites. She has written her own book, Beyond the Red Carpet The World of Entertainment Journalists, from Sourced Media Books.
Follow her on Twitter