The Way Way Back
Category:
Blu-ray's and DVD's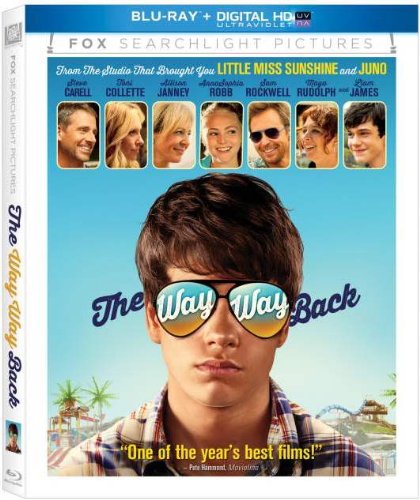 A star-studded comedic cast is the salvation of The Way Way Back with its witty repartee. It's the story of 14-year-old Duncan (Liam James) who is being raised by his mother Pam (Toni Collette) after the divorce of his parents.
Pam's new boyfriend Trent (Steve Carell) takes them, along with his teenage daughter Steph (Zoe Levin), to his summer beach house. Trent is a self-centered arrogant guy who treats Duncan unfairly and with disdain. The boy is sad, depressed, and aloof when the summer starts, but thanks to his new job and friends as the local water park, Duncan turns from a quiet, moody boy into an outgoing, fun-loving guy. Sam Rockwell plays Owen, the manager of the water park. Owen is an immature fellow with a lot of wisdom when he wants to use it. The problem is, he almost never wants to use it. He's like a grown-up Peter Pan. The bond Owen forms with Duncan is something neither of them will ever forget, even long after the summer is over.
AnnaSophia Robb plays the next-door neighbor and Allison Janney plays her mother. The cast is rounded out by Maya Rudolph, Rob Corddry, Nat Faxon, and Amanda Peet. While this isn't a story that will appeal to everyone, it does have its moments and a lot of fun from Janney and Rockwell.
The movie is more drama than comedy. It's not a film that is nonstop laughs. It shows the evolution of a shy, sad young man into a caring, guy who finally learns to enjoy life and to take chances and take control of his own life. The best way to describe the movie is it's a poignant coming-of-age film without any of the usual emphasis of sex. The emphasis is on self-esteem.
Bonus features on the Blu-ray include deleted scenes as well as behind-the-scenes "making-of" aspects with the cast and filmmakers. The Way Way Back is rated PG-13 for thematic elements, language, some sexual content and brief drug material.
About the Author
Francine Brokaw has been covering all aspects of the entertainment business for 20 years. She also writes about technology and has been a travel writer for the past 12 years. She has been published in national and international newspapers and magazines as well as Internet websites. She has written her own book, Beyond the Red Carpet: The World of Entertainment Journalists, from Sourced Media Books.
Follow her on Twitter
Like her on Facebook