The Velvet Touch on DVD
Category:
Blu-ray's and DVD's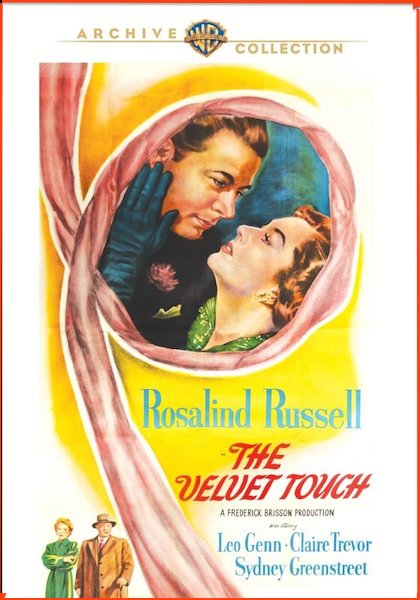 Rosalind Russell stars The Velvet Touch, a 1948 black and white thriller about a Broadway star who accidentally kills her manager/director. She can get away with it, but does she want to?
Russell is Valerie Stanton, the queen of comedy who wants desperately to see if she has what it takes to make it in Broadway drama. With the offer to play Hedda Gabler in the Ibsen play, Valerie decides this is her chance to spread her wings. The only thing standing in her way is her former boyfriend who is still her manager and director Gordon Dunning (Leon Ames).
While Valerie is lobbying Dunning to let her play the part, she meets an architect. Michael Morrell (Leo Genn) is the love of her life and she wants to marry him. He is loving and kind, and does not want to keep her under his thumb, as Dunning does.
When she confronts Dunning, he gets belligerent and in the heat of the argument Valerie strikes him with a statue, killing him instantly. All this happens in the first few minutes of the film. What happens next is the police investigation and the obvious culprit/murderer, another actress, Marian Webster (Claire Trevor), who is jealous of Valerie and who wants Dunning for herself. It seems they were a couple until Valerie took his away from her. What a wonderful motive for murder.
Police Captain Danbury (Sidney Greenstreet) is clever and a fan of Ms. Stanton. All the clues lead to Marian Webster as the murderer. It seems like a clear-cut case. But Valerie has one thing keeping her from accepting the fact that she is getting off free from any suspicion and free of the murder. It is her conscience. Will it keep her from living the life she loves or will it be her downfall?
This is a suspenseful old time drama. The acting is wonderful and the simplicity of the story is such that it is appealing without being boring. These old movies were well thought out and even without color or fancy effects, they still have appeal today.
The Velvet Touch has a wonderful performance by Rosalind Russell, a fabulous actress of her time. It is available from the Warner Archive Collection from their website at www.wbshop.com.
About the Author
Francine Brokaw has been covering all aspects of the entertainment business for 20 years. She also writes about technology and has been a travel writer for the past 12 years. She has been published in national and international newspapers and magazines as well as internet websites. She has written her own book, Beyond the Red Carpet The World of Entertainment Journalists, from Sourced Media Books.
Follow her on Twitter
Like her on Facebook