'The Unsinkable Molly Brown' now on Blu-ray
Category:
Blu-ray's and DVD's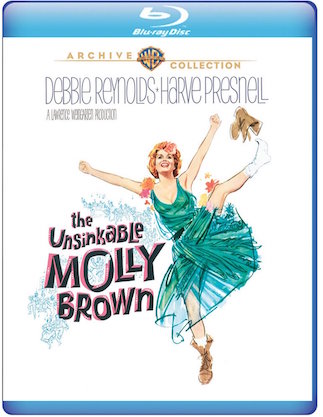 Debbie Reynolds stars as Molly Brown in this 1964 musical. The Unsinkable Molly Brown is based on a real woman. Molly Brown survived several crises in her life and Reynolds, along with Harve Presnell, present an entertaining look at the woman, her love, and her passion for life.
When Molly was a tiny baby she survived a major flood. She was taken in by a backwoods family and raised with "brothers" but always wanted more for herself. She always dreamed of a better life filled with riches and popularity. So she sets out on her way to Denver where the society people are.
Along the way she meets Johnny Brown (Presnell) and they fall in love. He promises her that although he doesn't have anything to give to her at that time, he will make a lot of money and she'll have the life she always wanted. Lo and behold, if he didn't do it! Molly gets her big house in Denver but is never accepted in the Denver society.
On a trip to Europe, Molly and Johnny meet several notables who thoroughly enjoy the uniqueness of the couple, especially the innocence and love of Molly. They return to Denver with the couple where Molly introduces them to the rich society folks in Denver. Her old friends from her past and the upper class in Denver clash, and soon Molly feels humiliated again. So, back to Europe she goes – alone.
It's in Europe she finds that her life is with Johnny, so she heads back across the ocean – on the Titanic. And yes, she does survive.
The music is the film is wonderful and the song "I'll Never Say No To You" is perhaps one of the greatest unappreciated love songs in the history of film. Reynolds was nominated for an Academy Award for her performance, and the music, set decoration, and costume design also garnered Oscar nominations. Presnell won a Golden Globe for the most promising male newcomer.
The bonus feature on the disc is a look at the creation of one of Reynolds' ball gowns for the film. From start to finish viewers see the steps necessary to create one dress.
This is a fun musical with a whimsical story about wanting to improve and be accepted. The take-away is that trying to fit in isn't what's important. The most important thing is to be yourself.
The Unsinkable Molly Brown on Blu-ray is part of the Warner Archive Collection.
About the Author
Francine Brokaw has been covering all aspects of the entertainment industry for 20 years. She also writes about products and travel. She has been published in national and international newspapers and magazines as well as Internet websites. She has written her own book, Beyond the Red Carpet The World of Entertainment Journalists, from Sourced Media Books.
Follow her on Twitter