'The Trust' on Blu-ray and DVD
Category:
Blu-ray's and DVD's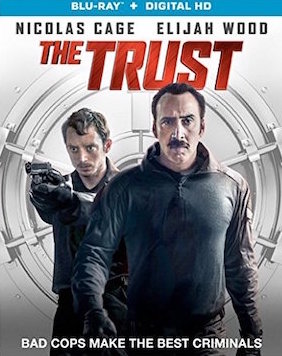 Nicolas Cage and Elijah Wood star in The Trust, a convoluted story about two Las Vegas police officers who are dissatisfied with life and fall into a scheme to get rich. Stone (Cage) and Waters (Wood) collect evidence for the department. They unexpectedly discover something that leads them to believe they have uncovered a major drug ring. So, they follow the clues – off the books!
The two take vacation days to track down the leads. But they don't have any intention of turning in their findings. They decide to take the contraband for themselves. They figure if the scope of their findings is as big as they think, they will have enough money to get out of the country and live a great life.
What they ultimately discover is something bigger than a little drug ring. Along the way the violence starts to overtake them and they turn from decent men into vicious criminals.
While the acting is good, the story leaves a lot of holes and the disconnect between events is obvious. Cage is always at the top of his game and this film is no exception. The problem is with the actual story, which is whacky, unbelievable as far as the characters are concerned, and disjointed.
Bonus features on the disc include a look at "The Visuals of Vegas." Las Vegas if front and center in this story and viewers get a feel for the residents of Sin City. Another bonus looks at "The Dynamics of a Duo: Nicolas Cage and Elijah Wood" with the actors, producer, and filmmakers. The story was written by Alex and Benjamin Brewer. Cage admits he enjoys working with young filmmakers who bring out another side of his acting talents.
Jerry Lewis appears in this film as Stone's father.
The Trust is rated R for violence, language, some sexuality/nudity, and drug use.
About the Author
Francine Brokaw has been covering all aspects of the entertainment industry for 20 years. She also writes about products and travel. She has been published in national and international newspapers and magazines as well as Internet websites. She has written her own book, Beyond the Red Carpet The World of Entertainment Journalists, from Sourced Media Books.
Follow her on Twitter