'The Trouble with Angels' now on Blu-ray
Category:
Blu-ray's and DVD's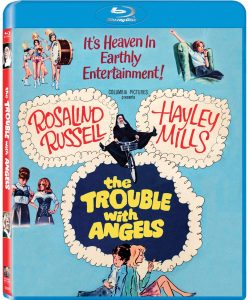 Hayley Mills and Rosalind Russell star in the adorable 1966 film The Trouble with Angels. Set in the St. Francis Academy for Girls and Convent, the movie was directed by legendary actress/director Ida Lupino.
Mills is Mary Clancy who arrives as a new student at the school along with Rachel Devery (June Harding). Having just met on the train, the two discover they are soul mates. They are both fun-loving, unconventional, rule-breaking girls with no respect for authority. They are about to see how far they can get with their antics during their three years at the school.
Russell is Mother Superior whose patience is tried over and over again by the spirited duo. She is a kind-hearted woman that ultimately comes to the conclusion that keeping the two girls at the school is in their best interests, having seen their parents and what they would be exposed to if she expelled them, however that thought often crosses her mind. She is a God-loving woman whose goal is to make decent women out of the students.
Mary is always coming up with "scathingly brilliant" ideas, involving smoking and breaking many of the rules of St. Francis. And Rachel feels the two are definitely "sympatico," so she goes along with everything Mary suggests, even if it means she is delegated to scrubbing pots as her punishment when they are caught.
With these two high-spirited girls on her hands, Mother Superior has her hands full, but her heart is also full with love and devotion to the sisters, the students, and God. Russell is definitely well-suited in this part as she is fun to watch while catching the duo whenever they misbehave, which is most of the time, but she is also carrying the burden of being their guidance when they are in trouble.
Russell reprised her role of Mother Superior in 1968 in the sequel Where Angels Go Trouble Follows!, however this film was without Mills.
Mills first caught the attention of the public in 1960 when she played the title role in Pollyanna, and cemented her fan base in the 1961 film The Parent Trap.
The Trouble with Angels is filled with heartfelt scenes as well as comedic ones. And the ending will surprise viewers who have not seen the movie before.
This is an entertaining family film filled with ups, downs, and plenty of spirit and love. It is now available on Blu-ray and is rated PG for mild thematic elements.
About the Author
Francine Brokaw has been covering all aspects of the entertainment industry for over 25 years. She also writes about products and travel. She has been published in national and international newspapers and magazines as well as Internet websites. She has written her own book, Beyond the Red Carpet The World of Entertainment Journalists, from Sourced Media Books, is the entertainment correspondent for Good Day Orange County, and has her own TV show, Beyond the Red Carpet, on Village Television in Orange County.
Follow her on Twitter