'The Tracker's Diary: Bears of Katmai'
Category:
Television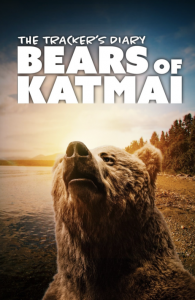 Curiosity Stream's new 5-part series The Tracker's Diary: Bears of Katmai is a wonderful look at the lives of Alaskan bears in their natural habitat. Nature is fascinating and it is even more interesting to see these magnificent animals interact without human interference.
Filmmaker Casey Anderson has produced many nature films showing viewers the wonders of the world. This particular series is not only educating but also very beautiful. For those who have never been to Alaska, this is an eye-opening look at the magnificent 49th state. It is a wonder in itself. With amazing scenery and animals it is a place to unwind from the hustle and bustle of life. It is nature at its best.
Anderson embeds himself and his crew with the Kodiak bears in the backcountry to get an up close and personal view of their interactions. It is just before winter so the bears are focusing on filling their stomachs with as much salmon as they can catch. Catching salmon is a feat in itself. And mother bears with their cubs are even more intent on getting their fill for the long winter.
It is amazing to see how the bears often simply disregard the humans. After all, they are not there to steal their food. But other bears are, so there are some squabbles between them from time to time.
Watching these magnificent animals is mesmerizing. This look at their real habitat is worth watching for the entire family. Most of us will not get the chance to see them in person like this. But thanks to Anderson, we now get a personal look into the lives of the Kodiak bears as they interact, care for each other, and often squabble.
This is a series for the whole family to enjoy together.
About the Author
Francine Brokaw has been covering all aspects of the entertainment industry for over 25 years. She also writes about products and travel. She has been published in national and international newspapers and magazines as well as Internet websites. She has written her own book, Beyond the Red Carpet The World of Entertainment Journalists, is the entertainment correspondent for Good Day Orange County, and has her own TV show, Beyond the Red Carpet, on Village Television in Orange County. She is a longstanding member of the Television Critics Association and is accredited by the MPAA. Follow her on Twitter.