The Theory of Everything
Category:
Blu-ray's and DVD's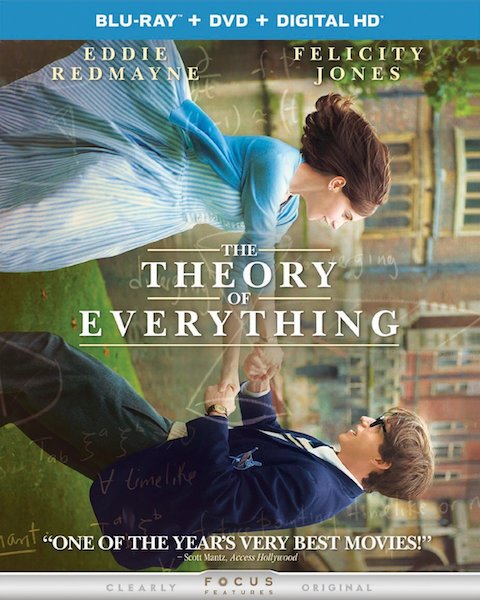 Eddie Redmayne and Felicity Jones star in this story of astrophysicist Stephen Hawking and his wife Jane. This is the story of their lives together as ALS ravages Hawking's body while his mind remains alert and focused.
At the age of 21 Stephen Hawking was diagnosed with ALS and given two years to live. That was in the mid 1960s. At the time he was a doctoral candidate at Cambridge where his girlfriend Jane Wilde was also studying. Their love was strong and although his prognosis was bleak, they decided to spend together whatever time he had remaining. Thus began the marriage and partnership of Stephen and Jane.
While Stephen's mind kept churning out world altering ideas, Jane looked after her husband and the kids they eventually had together. Besides looking at Hawking's brilliance, the story is more of a love story between the two main characters. Jane's devotion to her husband is amazing to watch. She took on more than she ever imagined she would have to endure, but her love for Stephen was what made them the strong couple they were, even though there were times when she felt it was too hard and too much for her to handle on her own.
Another sub-story is the God vs. Science angle. Jane was a religious woman, but Stephen was a man of science. On that they often clashed, but when they clashed on whatever matter it was, they were always charming and cordial to each other – at least in this film.
The acting is amazing. The movie has been nominated for five Academy Awards and on February 22 we will learn if it is awarded any of those coveted Oscars. Redmayne has already won the Golden Globe for Best Performance by an Actor in a Motion Picture Drama. The film and Redmayne have been nominated for many other awards and have received several along the way in this very intense awards season. Redmayne has been highly applauded for his performance in this movie, and rightly so. He is astonishing and viewers will forget they are watching an actor portrayal of Stephen Hawking.
The Theory of Everything is based on Jane Hawking's memoir Travelling to Infinity: My Life with Stephen. It is the story of their lives together, so if you're expecting a lot of scientific scenes, you won't see them. The combo pack includes a Blu-ray+DVD+Digital HD code.
Bonus features on the disc include some deleted scenes and an interesting featurette "Becoming the Hawkings" in which the actors and filmmakers describe how they got into character and got to know the Hawkings before they began filming.
The Theory of Everything is rated PG for some thematic elements and suggestive material.
About the Author
Francine Brokaw has been covering all aspects of the entertainment business for 20 years. She also writes about technology and has been a travel writer for the past 12 years. She has been published in national and international newspapers and magazines as well as internet websites. She has written her own book, Beyond the Red Carpet The World of Entertainment Journalists, from Sourced Media Books.
Follow her on Twitter
Like her on Facebook