'The Swan Princess' 25th Anniversary Blu-ray
Category:
Blu-ray's and DVD's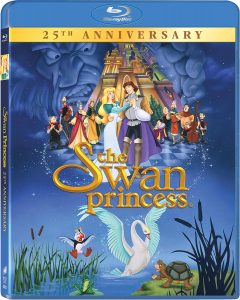 It is hard to believe but it has been 25 years since The Swan Princess captured the hearts and imaginations of viewers. This classic fairy tale of good versus evil, with true love winning out, is now available on Blu-ray for fans of the film and a new generation to enjoy. The story is peppered with delightful songs to accompany this delightful story.
When Baby Odette was born to King William, he was overjoyed. But the evil Lord Rothbart (voiced by Jack Palance) swore he would one day make the king pay for his banishment from the kingdom.
Over the years King William (Dakin Matthews) and Queen Uberta (Sandy Duncan) from a neighboring kingdom, planned on their two children marrying some day and joining the two kingdoms. Every summer King William brought Princess Odette (Michelle Nicastro) to spend the months with Prince Derek (Howard McGillin) but the two kids never got along. Then one summer when the adult Prince and Princess acknowledged their attraction and love for each other the plan came to fruition. Hooray. The wedding was on. But that was short lived.
Lord Rothbart kidnapped Odette and put a spell on her. During the day Odette would be a swan, but when the moon was out she would be her human self.
Prince Derek vowed to find the princess. He perfected his archery skills to prepare for the final battle. But would his skills be enough to battle the powerful Lord Rothbart and reverse the spell?
Odette's three friends from the lake where she is a swan are delightful cohorts on her effort to get back to Prince Derek. There is a frog, a puffin, and a turtle, each with the goal to reunite the two lovers.
There are two interesting bonus features on this 25th anniversary Blu-ray (that is also available on 4K Ultra HD).  First, there is a look back at the 25 years of this classic film. The filmmakers reflect on making the film and look back at the time when they created this beloved fairy tale. Another bonus is a behind the scenes "making of" feature giving viewers a step by step account of how this animated film was produced. This was a time long before the CGI technology we are used to today. Rounding out the bonus features are three sing-alongs.
The Swan Princess is a charming family film. It is rated G for everyone. Now viewers can fall in love with the story that captured our hearts a quarter century ago.
About the Author
Francine Brokaw has been covering all aspects of the entertainment industry for over 25 years. She also writes about products and travel. She has been published in national and international newspapers and magazines as well as Internet websites. She has written her own book, Beyond the Red Carpet The World of Entertainment Journalists, from Sourced Media Books, is the entertainment correspondent for Good Day Orange County, and has her own TV show, Beyond the Red Carpet, on Village Television in Orange County. Follow her on Twitter.