'The Standoff at Sparrow Creek' on Blu-ray
Category:
Blu-ray's and DVD's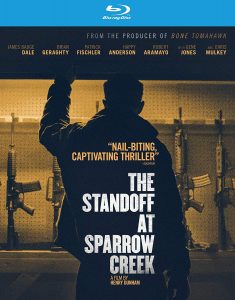 The Standoff at Sparrow Creek is an intense story of loyalty and suspicion. It is a bit confusing at times, however the ending ties everything up.
The film begins with a violent shooting at a police funeral. While the viewers do not see this event, it is broadcast on radios and a local militia learns the shooter is a militiaman. The group gathers at their warehouse only to discover one of them is the shooter.
Gannon (James Badge Dale) is one of the militia. He left the police department and joined the group and now finds he is in the position to interrogate each of his fellow militiamen to root out exactly who is the killer. If they do not come forth with the shooter, all of them could be in danger, and the violence set off by the shooting could spread to other militia around the country.
The militia consists of Gannon, Noah (Brian Geraghty), Ford (Chris Mulkey), Beckmann (Patrick Fischler), Morris (Happy Anderson), Keating (Robert Aramayo, and Hubbel (Gene Jones.) As Gannon begins his interrogations, each member of the group is under suspicion and the mistrust spreads while the group is updated via radio about other incidences in other regions. Militias are attacking and to stop the violence this one group must find the shooter that started it.
The Blu-ray includes a "Making Of" bonus with the cast and filmmakers discussing the movie and the production process. The entire 89 minutes takes place over the period of a couple hours and all in the one warehouse. It's an interesting way to make a film and the story has some interesting plot turns. Unfortunately to tell more about it would be to unleash a bunch of spoiler alerts.
This is a psychological film with a good cast.
The Standoff at Sparrow Creek is not rated however it is not for youngsters. It is available on Blu-ray and DVD.
About the Author
Francine Brokaw has been covering all aspects of the entertainment industry for over 25 years. She also writes about products and travel. She has been published in national and international newspapers and magazines as well as Internet websites. She has written her own book, Beyond the Red Carpet The World of Entertainment Journalists, from Sourced Media Books, is the entertainment correspondent for Good Day Orange County, and has her own TV show, Beyond the Red Carpet, on Village Television in Orange County.
Follow her on Twitter