The Squeeze on DVD
Category:
Blu-ray's and DVD's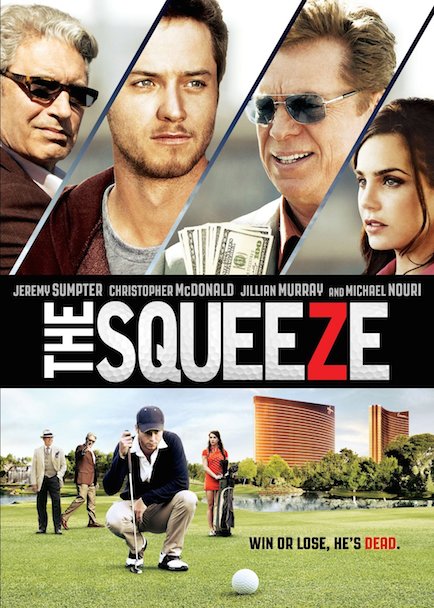 Gambling and scruples clash in this story of a young golf phenomenon. The film is based on the life of Keith Flatt, who was drawn into the world of high stakes gambling that eventually put his life in danger. The Squeeze is not a film for golf fans only. There are some interesting stories going on and the final twist of the plot will have viewers smiling.
Augie Baccus (Jeremy Sumpter) is an amazing golfer living in a small town. Then a fast talking gambler named Riverboat (Christopher McDonald) hears about this young man and proposes a partnership in which Riverboat would set up the bets and they both would rake in the cash. Augie first declines this tempting offer, and gains the respect of his girlfriend Natalie (Jillian Murray), but things at home make him reconsider. His family needs money.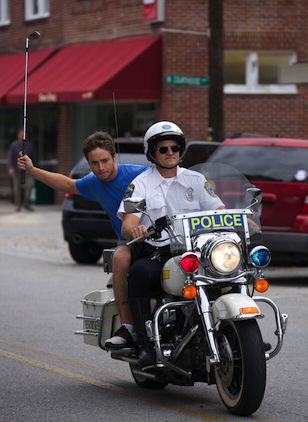 With Augie's skills and Riverboat's cunning, the two start making money hand over fist. Watching the amazing shots by Sumpter – who actually did perform most of the shots in the film – is amazing. As the two hustle and the money comes in, Augie's scruples start to crumble. Money changes his lifestyle and he experiences things he never had before. Plus, the added income for his mother and sister is a relief to the entire family.
But when Riverboat sets up a million dollar bet in Las Vegas against Jimmy Diamonds (Michael Nouri), a sleazy gambler, things go south for Augie. Jimmy and his hired goon assault the young man and tell him if he doesn't lose they will kill him. When Riverboat hears about this threat, he tells Augie if he doesn't win HE will kill him. So either way Augie is a dead man. Or is he?
That is what the final scene of the film is all about. What will Augie do? He has the ability to win. He can do it and split the million dollars with Riverboat, if he lives.
My personal thought was that Augie should tie the match. But he is much smarter than I am when it comes to dealing with these hustlers. Augie is not only a golf wizard, he also has brains to go along with his incredible talent. The sting that he pulls of is something viewers won't see coming.
Many of the stories in this film are taken from actual events. Director Terry Jastrow, who also wrote and produced the movie, did play cross-country golf much like the opening scene in the film. What is cross-country golf? To sum it up, the players golfed through the town until they got to the golf course. That's something you'll have to see to understand.
The Squeeze is an interesting story but the actual golf shots are even more intriguing to watch. Even if you don't enjoy watching golf matches – and I don't – you'll be amazed at the golf scenes.
The Squeeze is rated PG-13 for some sexuality, language, drug material, and thematic elements.
About the Author
Francine Brokaw has been covering all aspects of the entertainment business for over 20 years. She also writes about technology and has been a travel writer for the past 15 years. She has been published in national and international newspapers and magazines as well as Internet websites. She has written her own book,  Beyond the Red Carpet The World of Entertainment Journalists, from Sourced Media Books.
Follow her on Twitter
Like her on Facebook