The Spongebob Movie: Out of Water DVD GIVEAWAY
Category:
Giveaways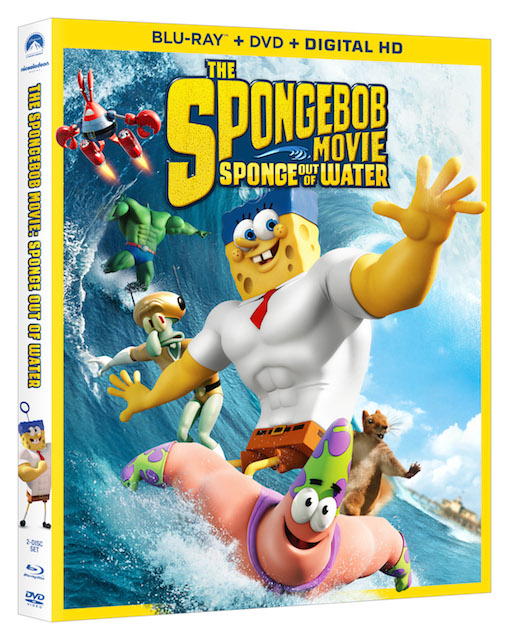 Antonio Banderas Stars in the $285 Million Worldwide Hit, Coming Ashore on Blu-ray™ Combo Pack.
SpongeBob and his friends are back—and like you've never seen them before—in the all-new blockbuster hit THE SPONGEBOB MOVIE: SPONGE OUT OF WATER.
On a mission to save his world, SpongeBob SquarePants is headed to ours.  When pirate Burger Beard (Antonio Banderas) steals the secret recipe for the beloved Krabby Patties, SpongeBob and friends come ashore to bring back the missing formula.  To succeed, they must team up with former rival, Plankton, but soon realize that to defeat a super-villain, they must unleash their inner superheroes.
Bonus features on the combo pack include:
On the Surface
SpongeBob SquarePants: Out of His World
When I Grow Up, I Want to Make Funny Sounds
Becoming Burger Beard
Making the Burger Mobile Chase Sequence
It's Hip to Be SquarePants
A Day in the Life of a Sponge
Underwater Awesomeness
Plankton Rules the World!
Bikini Bottom Confidential: Rock Stars of the Sea
International Sponge of Mystery
–  Meet Bubbles
–  The Speech
Bikini Bottom Boogie
Thank Gosh It's Monday
SpongeBob Sing-Alongs:
–  Thank Gosh It's Monday
–  Teamwork
–  Theme Song/Rap Battle
"Squeeze Me" Music Video by N.E.R.D.
Deleted/Extended/Alternate/Test Scenes
We have some copies to giveaway to a few lucky readers. To be eligible to win a copy of The Spongebob Movie, email us at [email protected] with "Spongebob Giveaway" in the title. Please supply your name, address, phone number and email address (so we can let you know if you are a winner).
The deadline for this giveaway is May 29, 2015.