'The Split' trilogy returns to explore the age-old notion of a "good divorce"
Category:
Television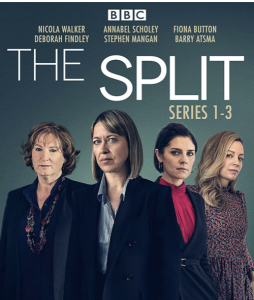 The Split, the gem of a TV series, has been one of my absolute favorites since its debut in 2018. It's an unflinching and witty examination of modern marriage and the legacy of divorce as seen through the lens of the Defoes — the matriarch Ruth (Deborah Findlay) and her three daughters Hannah (Nicola Walker), Nina (Annabel Scholey), and Rose (Fiona Button) — at the heart of London's high profile, high-end divorce circuit.
The Split final season follows the Defoe sisters as they stumble through the worst personal blows of their lives: marriage breakdowns, love affairs, divorce, betrayal, abandonment and then some. It picks up 10 months after the finale of the second season when Hannah's marriage to Nathan Stern (Stephen Mangan) blew up in her face. Although her harbored belief that men cannot be trusted makes her the fierce yet compassionate divorce lawyer any woman would be lucky to have, now she has to suffer the unpleasant consequences of her self-fulfilling prophecy. It's one thing to advocate for her clients — Hannah likes to say, "Let me be angry for you!" — so that they could fly out of their 'cages' with plenty of resources, but it's quite another to reveal her raw emotions during her own divorce exercises.
Hannah knows all the ins and outs of divorce negotiations, including the divorce seesaw. To her own surprise, Hannah is prone to flip-flopping between getting back together and moving on. She's heavily influenced by not only her hopes for a reconciliation for fear of change, but also by what she picks up from her clients' mistakes and regrets. However, when Nathan applies the subtle art of truth management — an occupational hazard of lawyers — to "the full transparency on a relationship status" clause, the gloves are now definitely off. Once it's apparent that he has moved on with a younger partner, all bets are off.
Is there such a thing as a "good divorce"? My divorce comes dangerously close to Berger's dumping Carrie with a Post-It-Note (Sex and the City). My ex did it with a long distance phone call. It should have been a clean break since we don't have any children and live 2,600 miles apart; our paths would never cross again. Yet, it wasn't a "good divorce" in any way, shape or form. The D word came out of the blue! He totally left me blindly shifting through our past searching for clues or evidence of brokenness and hoping things to be different. Apparently, he had been disengaging himself from the marriage and reality for quite some time and carried out his plan to jettison his royally messed up life in California. And that's exactly why I was dumped unceremoniously like an old carpet.
Letting go of what might have been was the gut wrenching, most violent and intrusive experience I've ever had in my life. My favorite song "Where do you start?" gives language to my divorce experience: "Our lives are tangled like the branches of a vine that intertwine/So many habits that we'll have to break/And yesterdays we'll have to take apart." Eventually I invented my own closure in order to forgive and move on with my life.
Do I believe in a "good divorce" in which both the adults and children emerge at least as emotionally well as they were before the negative consequences of marital dissolution? No, not really. Hannah and Nathan manage to make it happen because they are both professional lawyers who can afford to spend a lot of time and money to go through all the steps; custody of their children, spousal/child support, the division of their assets, and all other issues that need to be worked out. They find balance and common ground on which they can safely step off the divorce seesaw and move on. In other words, the couple learns to be on the same page with mature expressions of understanding about what went wrong and eventual acceptance of what wasn't meant to be.
The first two episodes of The Split are available both on Sundance Now and AMC+ streaming services. If you don't subscribe to the services, the six-part Season 3 of The Split returns to BBC America on Monday, June 27 with one episode weekly thereafter.
About the Author
Meg Mimura is a TV critic who actually watches shows zealously in search of thought-provoking and paradigm shifting human drama worth our precious time. She is a member of Television Critics Association. Follow her on Twitter.