'The Split' is an unflinching and witty examination of modern marriage through female lens
Category:
Television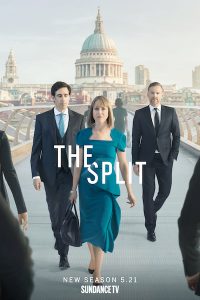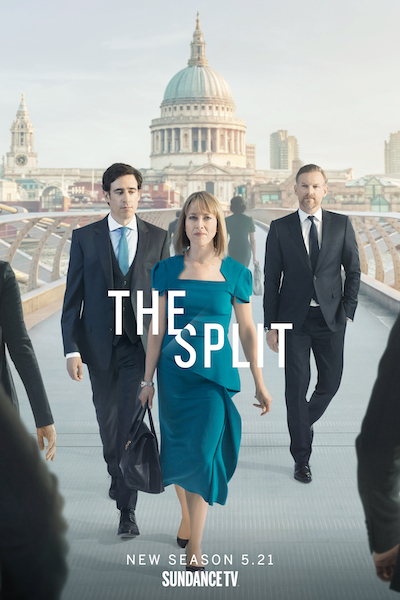 Since its UK debut in 2018, The Split has done a monumental task of examining a legacy of divorce being passed on for generations to come with only six episodes tightly compressed into a season. This gem of a TV series ticks all the right boxes for grown-ups: sisterhood, tumultuous mother-daughter relationships, love, marriage, divorce, unfinished business, emotional baggage, and then some.
Set in the acrimonious battleground of London's high profile, high-end divorce circuit, this one-of-a-kind series revolves around the tight-knit Defoe family; the matriarch Ruth (Deborah Findlay) and her three daughters Hannah (Nicola Walker), Nina (Annabel Scholey), and Rose (Fiona Button). After Oscar (Anthony Head) took off thirty years ago, Ruth single-handedly ran a tight ship at home as well as at the family law firm the couple had founded together. When Oscar came back with a hidden agenda, Ruth's carefully woven web of deceit and lies started unraveling. The ramifications of Oscar's betrayal and abandonment and Ruth's overt/covert messages baked deeply into the daughters' psyches are unmistakable.
Hannah Stern, married with three children, was fed up with Ruth's tight grip on her career and the first one to jump ship. Noble Hale, one of the Dafoe's competitors, offered her a position. She is the kind of divorce lawyer any woman would be lucky to have (if you can afford her, mind you) in her corner; she can be ruthless if necessary, but treats her clients with respect and compassion and genuinely wants to help them fly out of their 'cages' with plenty of resources.
Hannah's underlying belief that men cannot be trusted proves to be a double-edged sword, however. It makes her the fierce yet compassionate divorce lawyer, but becomes a self-fulfilling prophecy for her romantic relationships. Hannah seemed to have it all, but when Nathan's (Stephen Mangan) indiscretion was exposed in Season 1, she lost confidence in her marriage and womanhood. In order to compensate for the shaky ground she was standing on, she turned to Christie (Barry Atsma), her colleague and old flame from law school who confessed his unfinished business with her. Whether it's a retaliatory act to get back at Nathan or just a wish fulfillment fantasy, Hannah's world has turned upside down.
Nina also practices family law. Being compared to Ruth, the eminent/legendary lawyer, and the "have it all" Hannah weigh heavily on the middle sibling. The eternal party girl turns to her loose lips, atrocious love choices, and addictive behavior. Although Nina is not at the top of her game, the most attractive Defoe sister might have to settle for a partner who doesn't mind playing a traditional wife role to nurture and support her. Her underlying belief? "There is something wrong with me. I'm not good enough."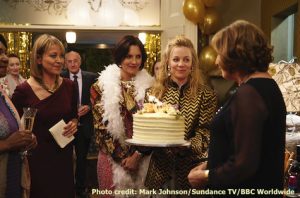 Rose was only 14 months old when Oscar left so she seems to be the least affected by the parents' sins. She is the only Defoe sister not in the family trade. She neither has goal nor drive because the overprotected baby sister gets away with anything. Although she was told by Nina of all people to "stop looking to a man to find you," she got married to the most boring man (sorry!) you'd ever met in your life. Rose's underlying belief that men always leave led her to choose the safest man on earth. Let's see how this marriage works out.
The Split returns to SundanceTV for a second season on May 21, 2020. Season 2 will be definitely messier on all fronts. At the newly merged law firm Noble Hale Defoe (NHD), the former rivals work side by side under scrutiny of a merger consultant. Hannah is involved in her most public and lucrative divorce case that would put NHD firmly on the map. Fi Hansen (Donna Air), battered celebrity, wants out of the aggressive pre-nup she had signed when she was nobody. Richie Hansen (Ben Bailey Smith), her controlling and abusive husband/producer, would stop at nothing to retain his position of power. This volatile case seeps into Hannah's already rocky marriage as well as her double life until they all spin out of control. The Stern children would be the next generation to suffer the full brunt of spectacular collision between Hannah's reality and fantasy. Watch for Hannah's subtle art of fact management, particularly how much and when to reveal her personal truths to Nathan! I take it that's an occupational hazard of lawyers.
Nina's chaotic and lonely existence starts bleeding into her workplace and forces her to grow up in an unexpected way. Rose decides to get a real job in order to support her unemployed husband. Ruth finds a way to make herself indispensable to the industry.
The Split Season 2 premieres Thursday, May 21, 2020 on SundanceTV. If you haven't watched Season 1, I earnestly urge you to check it out on Sundance Now, Hulu, or Amazon streaming services. Without any prior knowledge or insight into the intricate web of secrets and lies woven among the Defoes and their men, it will be harder to experience Hannah's emotional buildup to her ultimate demise.
About the Author
Meg Mimura is a TV critic who actually watches shows zealously in search of thought-provoking and paradigm shifting human drama worth our precious time. She is a member of Television Critics Association. Follow her on Twitter.