'The Sound of Music Live' 60 Anniversary of the Broadway Classic
Category:
Blu-ray's and DVD's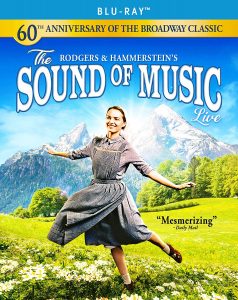 Even though we will always think of Julie Andrews as Maria, the play itself has been around longer than the film. Celebrating the 60th anniversary of the Broadway classic play, this 2015 live performance is definitely worthwhile and is filled with the songs and the emotions we know from the film.
Kara Tointon is wonderful as Maria, the wanna-be nun who ends up falling in love with a man with seven children. And Julian Ovenden is equally entertaining as Captain von Trapp. The role of Max Detweiler, the family friend, is played by Alexander Armstrong who is a more personable character than the Max Detweiler in the movie. And Maria Friedman, who sings a heavenly version of "Climb Every Mountain," plays Mother Abess
The story differs slightly from the film as do the songs, however most of the wonderful songs we know from Rodgers & Hammerstein are included in the play, along with some that were deleted from the film.
When a movie is so well known and beloved it might put off viewers from seeing a different version, but don't let the fact that this is different from the movie dissuade you from this Blu-ray. It is just as enchanting as the film, however in a little different way.
The cast does a wonderful job of creating the characters and singing the songs.
This version of "The Sound of Music Live" won the BAFTA Television Craft Award.
"The Sound of Music" has been performed on stage by a variety of casts, and this one does the writers proud. The Blu-ray from Shout Studios includes an optional commentary by Tointon and Ovenden as well as a behind-the-scenes look at the story and the making of the broadcast.
About the Author
Francine Brokaw has been covering all aspects of the entertainment industry for over 25 years. She also writes about products and travel. She has been published in national and international newspapers and magazines as well as Internet websites. She has written her own book, Beyond the Red Carpet The World of Entertainment Journalists, from Sourced Media Books.
Follow her on Twitter