'The Smurfs' now on 4K
Category:
Blu-ray's and DVD's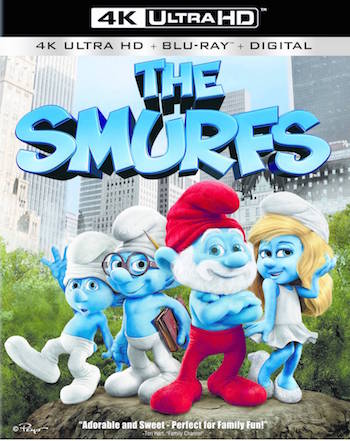 The 2011 film The Smurfs is now on beautiful 4K Ultra High Definition with more vivid blues and vibrant reds making the little blue guys – and gal – even bluer than ever!
The evil wizard Gargamel (played by Hank Azaria) is intent on getting the "essence" of the Smurfs to create more power for himself. He chases them through the forest and while most of the Smurfs go in one direction, Clumsy leads a small group, including Papa Smurf and Smurfette, another way. They find themselves at a dead end, with Gargamel right behind them. Their only escape is through a portal, which leads them out of their magical world and into the heart of New York City. In the big apple they meet a young human couple (Neil Patrick Harris and Jayma Mays) who take care of them while Papa Smurf figures out a way to reopen the portal so they can return to their own land.
The little blue guys have quite an adventure in New York City. When they go into FAO Schwartz kids think they are toys and chase them around the store. Imagine these little seven and a half inch tall fellows running around the giant toy store. And Smurfette does an impersonation of Marilyn Monroe by wearing a dress and standing on an air-conditioning grate in the apartment, reimagining the famous scene from The Seven Year Itch.
The Smurfs is a magical film and the characters, especially Clumsy (voiced by Anton Yelchin), are endearing. Watching all the fun things that happen in this film is a joy for young and not-so-young viewers. The filmmakers take everyday objects that we usually never pay much attention to and use them in new ways. Take a leaf blower for instance. It blows as well as sucks up – in this case it sucks up little Smurfs.
This is definitely a fun movie. Some of the voice talent includes Katy Perry (Smurfette), Jonathan Winters (Papa Smurf), Alan Cumming (Gutsy), Jeff Foxworthy (Handy), George Lopez (Grouchy), and Wolfgang Puck (Chef). Sophia Vergara appears as Neil Patrick Harris' boss, and Tim Gunn also makes an appearance, as well as several notable New Yorkers, including Joan Rivers, Liz Smith, Michael Musto,
Bonus features include a look at how the filmmakers shaped the characters for the screen. After all, until now they had mainly been 2D characters on a page. They needed to get updated in a "stylized but natural" way. This film also introduced Gutsy, the newest character. The filmmakers were curious to see how the die-hard Smurf fans would react to a new character.
To make them appear more realistic, as realistic as possible for the little blue guys, their skin had to be created on a computer to look translucent. And like you and me, they too have wrinkles and freckles.
Viewers also see how the characters progressed from 2D to 3D. It's an interesting look behind the scenes. Another bonus is a fun music montage and there is also a game.
And for viewers who have an iPhone or iPad, the second screen experience (with the download of the app) is a unique way to experience this movie with additional fun on the phone or pad while the movie is playing on the TV.
This is the first time The Smurfs is available on a 4K combo pack that includes a Blu-ray disc with the film and bonus features. And it's the perfect time to catch up with the gang before the release of their newest film Smurfs: The Lost Village
The Smurfs is rated PG for some mild rude humor and action.
About the Author
Francine Brokaw has been covering all aspects of the entertainment industry for over 20 years. She also writes about products and travel. She has been published in national and international newspapers and magazines as well as Internet websites. She has written her own book, Beyond the Red Carpet The World of Entertainment Journalists, from Sourced Media Books.
Follow her on Twitter