The Smurfs 2 on Blu-ray and DVD
Category:
Blu-ray's and DVD's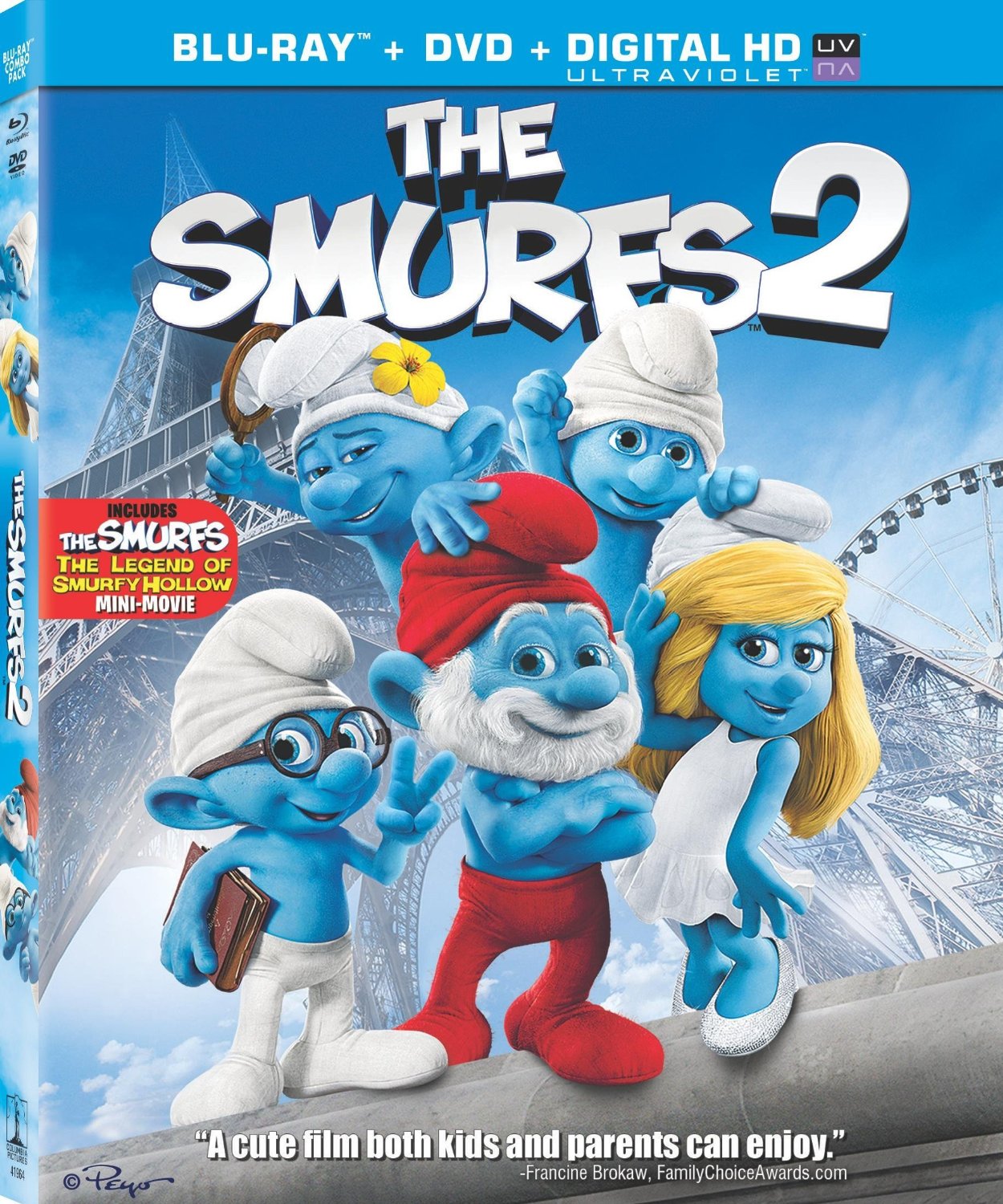 The Smurfs are back with even more fun and adventure when they return to the human world to enlist the help of their friends Patrick (Neil Patrick Harris) and Grace (Jayma Mays), who now have a young son Blue (Jacob Tremblay). After Smurfette (voiced by Katy Perry) is Smurfnapped by Gargamel (Hank Azaria) and brought from Smurf Village to Paris, some of the other Smurfs follow to save her. The Smurfs 2 introduces two new adorable characters for fans of the little fellows.
The new characters are Vexy (voiced by Christina Ricci) and Hackus (voiced by J.B. Smoove). They were created by Gargamel, as was Smurfette. Papa Smurf turned her to good, but Vexy and Hackus are still under the control of the evil Gargamel, who brought Smurfette to Paris to get her to divulge Papa Smurf's secret spell.
It's a Smurfy good time for audiences who will turn blue with envy as they see all the fun onscreen. Vexy and Hackus are fun new characters that add some spark to the group. Hackus is a bumbling fellow, while Vexy just wants love and attention from her papa Gargamel. And all Gargamel wants is the Smurf "essence" so he can take over the world. But that's not going to happen, as long as the Smurfs and Patrick are willing to sacrifice everything to save Smurfette and the world.
One of the themes of this story is family. It doesn't matter if you are related by blood. What matters is the familial bond that exists between people, or Smurfs. While Smurfette is conflicted between Gargamel – who created her, and Papa Smurf – who raised her, she realizes who her real father is. And that goes double for Patrick who was raised by his stepfather Victor but never felt as though he was his real father. Up until now. As they say in the movie, "It doesn't matter where you come from, but who you choose to be." And we should "never give up on family." Love is stronger than anything.
So, with the two little "Naughties" (Vexy and Hackus) providing a new element to the gang of tiny fellows, Smurfs 2 is a cute little film both kids and parents can enjoy.
Bonus features on the Blu-ray edition include The Smurfs: The Legend of Smurfy Hollow mini-movie. This is a delightful story of friendship and jealousy. Of course, we all know that friendship wins out! When some of the little fellows are stranded in the woods overnight, Narrator Smurf recounts the story of the legend of Smurfy Hollow. It's the story of the headless horseman who lives in the hollow. Or does he?
Every fall, the Smurfs take part in a contest to see who can gather the most Smurfberrys. Brainy Smurf has been winning every year. So, when they all scatter to collect their Smurfberrys, Gutsy Smurf decides to follow his friend to find out his secret. What he discovers is that Brainy has been crossing through the covered bridge into Smurfy Hollow. So, Gutsy decides to do the same and, well, without giving away the whole story, I'll just tell you that Gargamel catches three little Smurfs in a trap. It's teamwork that saves the day.
Other bonus features include deleted scenes and featurettes about the characters. Katy Perry discusses Smurfette and her dilemma in the film. Where does Smurfette belong? With the Naughties or with the Smurfs? There are also featurettes about Hackus and Vexy, with Christina Ricci and J.B. Smoove. Hackus is a devilish little guy but is sweet like a puppy dog, and Vexy just wants to be loved and accepted. And most of all, they both want a family, which is what they end up getting.
In two other bonuses, Azrael the cat is closely examined. First viewers learn about his personality. He's actually much smarted than Gargamel, but of course we all know that. And the second featurette about Azrael is interesting because it takes viewers behind the scenes and shows how the filmmakers meshed the real cat (actually they used three cats to play Azrael) with animation.
The last featurette looks at the evolution of the Naugties – how they were created, why they were gray with blue freckles, and how Smurf lovers will embrace this whole new kind of Smurf.
For characters who are three apples high, the Smurfs have a big fan base, and continue to entertain and delight generations of viewers. And to continue the fun, there is a free "Smurf-O-Vision 2 App" for iPad, iPhone, and iPod Touch. With this app, families can unlock additional hours of activities and Smurfy good fun.
The Smurfs 2 is rated PG for some rude humor and action. It's available on DVD and on Blu-ray Combo Packs.
About the Author
Francine Brokaw has been covering all aspects of the entertainment business for 20 years. She also writes about technology and has been a travel writer for the past 12 years. She has been published in national and international newspapers and magazines as well as Internet websites. She has written her own book, Beyond the Red Carpet: The World of Entertainment Journalists, from Sourced Media Books.
Follow her on Twitter
Like her on Facebook