The Slap on NBC
Category:
Television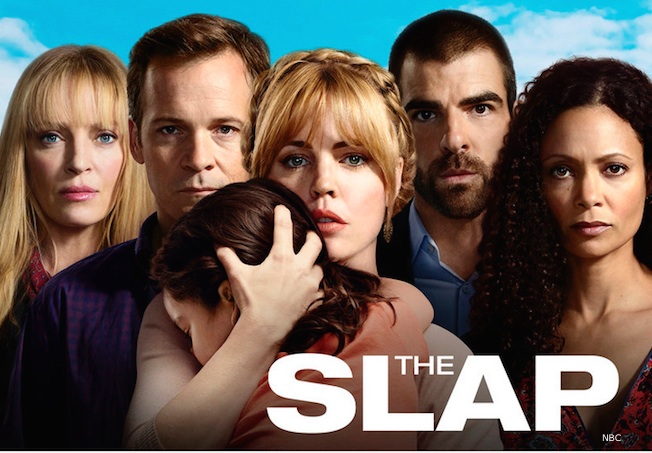 The Slap is an 8-hour event on NBC, revolving around families and friends in New York. The name comes from the fact that on the first episode a young child gets slapped when he is acting out.
Executive Producer Walter F. Parkes told the Television Critics Association recently, "The slap is a catalyst for a whole lot of things that happen in these people's lives. One of the metaphors we used during working on this show – sometimes you have to break something to put it back right."
Through the next seven episodes issues erupt and histories are exposed. One of the stars, Zachary Quinto, acknowledged, "The interesting thing is it's not really about the slap, and all of these characters come to the table with a tremendous amount of internal conflict and struggle about different aspects of their lives and relationships." He said, "The slap is just this codifying incident that pulls all of that into clear relief, and so I think all of us were more interested in the psychological dynamics that are going on outside of the actual slap."
According to Parkes, "NBC network and NBCUniversal saw this as an opportunity to do a kind of event that usually we do associate with cable. At the end of the day, it does provide, because it doesn't have the rigors of 22 episodes, because it's closed-ended, an opportunity for people, both behind and in front of the camera, to really commit to do something a little bit different, a little bit special."
Another star of the show, Melissa George, is excited about how the network is dealing with the story and very happy it is on NBC rather than a cable network. "There's no excuse for this not to deliver," she said. "For once, I feel, wow, we might get the viewers, and we've got the beautiful dialogue. So I'm hoping the two roads meet."
George's co-star, Thandie Newton, added, "I feel like with cable – and I did a cable show – there's a tendency to sort of [be] more gratuitous than it needs to be because that's what people are expecting from cable."
The Slap premiers Thursday, February 12 on NBC.
About the Author
Francine Brokaw has been covering all aspects of the entertainment business for 20 years. She also writes about technology and has been a travel writer for the past 12 years. She has been published in national and international newspapers and magazines as well as internet websites. She has written her own book, Beyond the Red Carpet The World of Entertainment Journalists, from Sourced Media Books.
Follow her on Twitter
Like her on Facebook