'The Siege at Ruby Ridge' on DVD
Category:
Blu-ray's and DVD's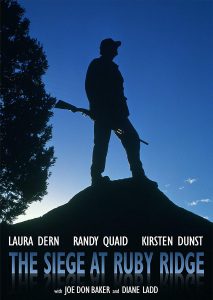 The events from the 1990s are explored in this film featuring Randy Quaid, Laura Dern, Diane Ladd, and Kirsten Dunst. It depicts the over-zealous and ultra religious family of white supremacist Randy Waver (Quaid) and his wife Vicki (Dern) who moved from Iowa to the top of a mountain in Idaho where they expected to be safe from the government and the wrath of God.
This docudrama also delves into the dark religious beliefs of the family as well as the white supremacists and neo-Nazis who have taken up residency in Northern Idaho and have made that their little corner of the world away from any of the "undesirable" elements in society.
The Weavers were armed to the teeth and from an early age taught their children how to shoot and survive on their own. They also inflicted their own hate of blacks, Jews, and others on their children who grew up with the idea that these people are evil and the government is wicked.
In August 1992 Federal agents began the "siege" waiting for Randy Weaver to come off the mountain. He was at this time a fugitive and was considered armed and extremely dangerous. With his whacky beliefs, the agents had no way of knowing if the cabin was booby-trapped so they waited and waited for the family to come out. Once they did, and the agents saw they were armed, the shooting began.
In the end, the Weaver's oldest son and Vicki were dead and others were wounded. The trial was a national event, with Joe Don Baker playing the role of defense attorney Gerry Spence.
Laura Dern's real life mother Diane Ladd plays her mother in this film. Vicki's family were concerned about her ultra religious beliefs, but failed to deter her from them.
The movie is not rated however it is filled with violence and viciousness. And yes, there is animal cruelty involved. Keep that in mind when watching.
About the Author
Francine Brokaw has been covering all aspects of the entertainment industry for over 25 years. She also writes about products and travel. She has been published in national and international newspapers and magazines as well as Internet websites. She has written her own book, Beyond the Red Carpet The World of Entertainment Journalists, from Sourced Media Books, is the entertainment correspondent for Good Day Orange County, and has her own TV show, Beyond the Red Carpet, on Village Television in Orange County.
Follow her on Twitter