The Seventh Dwarf
Category:
Movies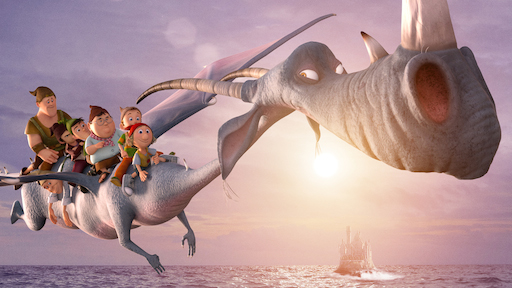 The Seventh Dwarf is a cute, clever, and creative story merging many popular fairy tales together. This animated film also includes some fun, toe-tapping songs.
When Princess Rose (Sleeping Beauty) was born, she had a curse put on her by the evil Dellamorta. By her 18th birthday she would prick her finger with a needle and the entire kingdom would fall into a deep sleep for 100 years. Her father put armor around the child until she was 18 to ensure her safety.
Rose had another plan. She would send her true love Jack, a kitchen worker in the castle, to live with the seven dwarfs until the clock struck midnight on her birthday. Then, in case the witch's curse came to be, he would return and kiss her to awaken the kingdom.
While on his way to the cottage of the Seven Dwarfs, Jack is kidnapped by Dellamorta and taken to her castle, which is guarded by her dragon Burner. Rose believes Jack is safe with the dwarfs so she isn't afraid of the curse.
On her birthday everyone comes to celebrate, including a stylish Snow White, Cinderella, Red Riding Hood, Puss in Boots, and an array of fairy tale characters. There is a lot of ruckus when Dellamorta emerges and things get prickly, pun intended.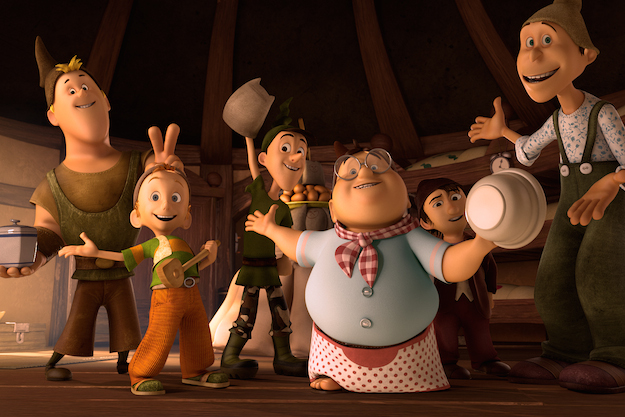 The Seven Dwarfs are a fun little bunch. They even have their own song they sing while walking in line. It's not quite the "High Ho" song from Snow White but it is just as catchy. Viewers will find they cannot get that song out of their head once the dwarfs start singing.
Bobo is the youngest dwarf and the clumsiest. He has good intentions, but he is a little awkward. When the witch's curse comes to fruition and the kingdom is in deep slumber, Bobo and his six friends take off for Dellamorta's castle (which in many ways is a nod to Elsa's ice palace) to find Jack and bring him back to save Rose and the kingdom.
Bobo is a cute little guy and even though he is clumsy, he has a heart of gold and courage of steel. And, to top it all off, he manages to turn Burner into an ally.
Both children and their parents will enjoy this story of a brave little dwarf. There are many fun items and characters in the film that reflect on several other fairy tales. This mash-up of stories is done in a cute and enjoyable way.
Join Bobo, Cooky, Cloudy, Sunny, Tschakko, Speedy, Ralphy, along with Jack, Burner, and a gang of fairy tale characters in this imaginative new look at a classic story.
The Seventh Dwarf opens in Los Angeles and New York on July 31, 2015. It will be available on DVD and a Blu-ray/DVD combo pack August 18, 2015.
The Seventh Dwarf is rated PG.
About the Author
Francine Brokaw has been covering all aspects of the entertainment business for 20 years. She also writes about technology and has been a travel writer for the past 12 years. She has been published in national and international newspapers and magazines as well as internet websites. She has written her own book, Beyond the Red Carpet The World of Entertainment Journalists, from Sourced Media Books.
Follow her on Twitter
Like her on Facebook