'The Sense of an Ending' on DVD
Category:
Blu-ray's and DVD's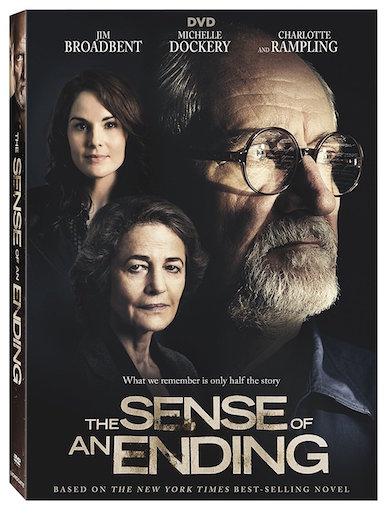 Jim Broadbent stars as Tony Webster in The Sense of an Ending. This is the story of memories, love, loss, and coming to terms with your life.
Webster is a divorced man whose daughter is about to give birth, starting a new chapter in all of their lives. He's a quiet man who is forced to confront his past when out of the blue he receives a letter informing him that the mother of his first girlfriend has passed away and left him something in her will.
This is a surprise to Webster. He hasn't seen his old friends in ages. When he goes to the attorney's office to pick up the item which he discovers is a diary, he learns his former girlfriend Veronica is not going to release it. This upsets him because feels he is entitled to the diary, even though he hasn't seen these people in many decades. Why would this woman leave him anything, and why won't Veronica give it up?
While this is going on, Webster relates the story to his ex-wife. Through flashbacks viewers get glimpses of his life when he was in school. His four best buddies were close, for a while. One of them ended up committing suicide. All of this plays into the story as Tony relives his memories.
He tracks down Veronica (Charlotte Rampling) and when she refuses to hand over the diary – she said she burned it – she leaves something with him. It's a letter he wrote years ago after he and Veronica split up and she became involved with his other friend.
This is a mystery that unravels slowly as the film progresses and it is not until the end when viewers understand what actually happened between them all those years ago. The movie is slow moving and at times a bit confusing, but the ending wraps up most of the confusion.
There are two behind the scenes bonus features on the DVD. The movie was based on a book and the filmmakers did their best to do justice to the popular novel. The actors and filmmakers discuss their characters and working on the movie.
Emily Mortimer, Michelle Dockery, and Harriet Walter costar in this story, however it is lead by Broadbent. Director Ritesh Batra garnered the "Directors to Watch" award at the Palm Springs International Film Festival earlier this year.
The Sense of an Ending is rated PG-13 for thematic elements, a violent image, sexuality and brief strong language.
About the Author
Francine Brokaw has been covering all aspects of the entertainment industry for over 20 years. She also writes about products and travel. She has been published in national and international newspapers and magazines as well as Internet websites. She has written her own book, Beyond the Red Carpet The World of Entertainment Journalists, from Sourced Media Books.
Follow her on Twitter