'The Secret Life of Pets'
Category:
Blu-ray's and DVD's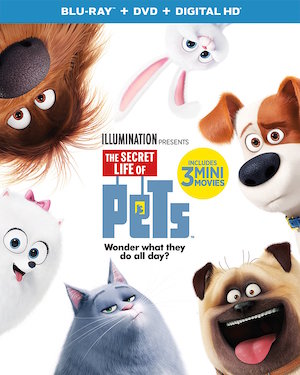 Have you ever wondered what your pets do when you're not at home? That is what the filmmakers wondered. That is how they came up with this fun animated film for the entire family. The Secret Life of Pets is adorable and filled with plenty of animals that will steal your heart.
Max (voiced by Louis C.K.) is a content little dog who adores his owner Katie. Then one day she brings home another dog, Duke (Eric Stonestreet), who is a huge, loveable fellow. Unfortunately, Max is not pleased with the new addition to their family and sets out to make life miserable for his new "brother."
Max and Duke end up separated from the others when their dog walker becomes distracted and soon the two pooches find themselves in danger on two fronts. First, they are targeted by a gang of mischievous former pets who are intent on revenge against humans who have mistreated them. A cute bunny named Snowball leads this gang. But don't let his looks deceive you. He is filled with rage. The two dogs are also trying to evade the animal control truck.
When their friends learn they are missing, they set out on a mission to save them and bring them home. Among them are Gidget (a fluffy little dog who is in love with Max), Mel (a fun-loving pug), Buddy (an inventive dachshund), Sweetpea (a sweet bird), Chloe (a fat cat), Tiberius (a red-tailed hawk), Norman (a guinea pig), and Pops (a basset hound).
Bonus features on the combo pack include a look at how and why the filmmakers created the story as well as the voice cast. There is a funny and educational featurette about various real life animals with animal trainer Molly Mignon O'Neill in which she introduces viewers as well as voice actors Kevin Hart and Eric Stonestreet to these living critters. Plenty of other bonus features round out this fun-filled disc.
The Secret Life of Pets is available in a Blu-ray + DVD + Digital HD combo pack, a DVD, a 3D combo Pack and a 4K Combo Pack. It's rated PG for action and some rude humor.
Look for the sequel in 2018.
About the Author
Francine Brokaw has been covering all aspects of the entertainment industry for over 20 years. She also writes about products and travel. She has been published in national and international newspapers and magazines as well as Internet websites. She has written her own book, Beyond the Red Carpet The World of Entertainment Journalists, from Sourced Media Books.
Follow her on Twitter