'The Secret Life of Pets' Stars Talk about the Movie
Category:
Movies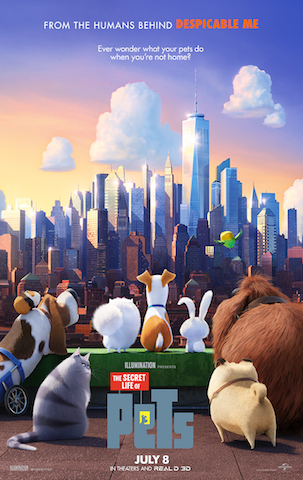 If you think Fido stands patiently by the door waiting for his owner to return, better think again. The creative folks behind Despicable Me expose the truth in The Secret Life of Pets. The storyline bears a striking resemblance to Toy Story, only this time the leading character/narrator is a Jack Russell terrier named Max (voiced by Louis D.K.) who finds himself cast aside and vying for his owner's affection against a scruffy hound named Duke (Eric Stonestreet).
The brightly colored animated feature reveals the scoop on a pack of adorable English-speaking animals from the standard white French poodle, who's a closet head-banger, and a dachshund, who's discovered a clever use for the beaters of an electric mixer, to a revenge seeking demonic bunny named Snowball (voiced by Kevin Hart), a precocious chubby feline called Chloe (Lake Bell) and a dimwitted pug named Mel (Bobby Moynehan).
The action spills over onto the panoramic streets of New York's Greenwich Village after Max and Duke give the dog walker the slip. What follows is a madcap encounter during which they're pursued by the animal control officer and a rogue gallery's worth of "Flushed Pets."
For the majority of actors this was their first foray into animation and creating their onscreen alter egos required a whole new set of acting techniques, and most actors came away with a greater appreciation for their chosen furry creature. Director/actress Lee, who penned 2013's In the World agreed, during a press outing at Liberty State Park in Jersey City, NJ. "In playing this cat, I learned a lot about cat culture and the cat community. What I have learned is their complexity makes them great and I certainly enjoyed Chloe's sarcasm. I've been campaigning so hard for a cat, but my husband is a staunch dog dude. There are a couple of cats I follow on Instagram though."
Hypothetically, what would Lake's reaction be if one of her pets started talking? Chuckling she replied, "First of all I would be like, 'listen, I'm not going to tell anyone about this. Let's just keep it between you and me. No media, no talk shows, I'm not going to pimp you out to the media.'"
Monyihan wouldn't be so discreet nor secretive, "I would take him to Saturday Night Live and ask why my sketch got cut. Then I would leave the room and send my dog in to find out why."
Comedian Kevin Hart didn't need much convincing to sign up for the role of the white rabbit Snowball, who still harbors a grudge after being abandoned by his owners. "Nothing gets you more excited than seeing your character has two sides. They showed me a picture of the bunny when he was very nice and adorable. Then they flipped the page and he was grabbing his ears and his eyes were angry.
"They said, 'Kevin, we want you to bring your personality to this bunny. Give us the cute, cuddly side, but at the same time make it believable that this guy can start a revolution and have people follow him.' I jumped at the opportunity," he said.
A New Yorker himself, six-time Grammy Award winner Louis CK found it easy to step into the mindset of Max. "In New York you have this tension between your little home, everybody's home in New York is small and intimate, while outside there is such chaos. Also, dogs are very transparent. They're easy to read.
"Every time we'd be doing a scene the dog is desperate for the woman's affection. So I get dogs. Dogs don't have a timeline in their heads. They don't have any confidence in the future. They just believe that whatever they're feeling is what they'll always feel. I try to remember that," he interjected. "These are domestic creatures, so they're really dependent on people. You can give a dog all his treats, toys, and a bag of food, but he's not happy unless you're there."
As parents, The Secret Life of Pets provides a different sense of accomplishment. Bell explained, "I'm so proud that I have something that my daughter (20 month old Nova) will be able to see. This movie is the first thing that I will allow her to see, … This is a family movie and maybe I'll be her hero because I play a cat. She loves animals."
Louis CK agrees, "It's nice to make something your kids can watch, that's a nice thing. My kids can't see anything I make, except for this."
Shaking his head in jest, Hart added, "I let my kids watch everything I do. I tell them, 'You go to school and you recite Daddy's lines to your friends.' No, no. I'm joking. For the most part, animation is the right way to do and I'm glad that I was able to squeeze one in before they get too old."
About the Author
Winnie Bonelli is a former entertainment editor for a daily metropolitan New York City area newspaper. She is passionate about movies and television and loves to take readers behind the scenes.