'The Secret Life of Pets 2'
Category:
Blu-ray's and DVD's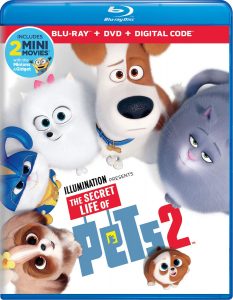 The loveable pets from the original 2016 film return with more fun and frolicking than ever. In the first film viewers were introduced to Max, Duke, Mel, Gidget, Snowball, Sweetpea, Norman, Pops, and several other household pets. This sequel brings them all back, along with some new characters, with just as much wackiness as before.
Max is content with his family. No kids are around to jump on him or pull his tail. But when a baby enters their household, things change. Max and Duke discover little baby Liam is not a bad kid. As a matter of fact, Max takes on the job of protecting this little fellow.
There are several stories going on in this one movie. First is the story of Max and Duke who adore the little kid. Then when the entire family takes a trip to a farm, Max leaves his beloved toy in the care of Gidget who vows to take good care of it while he is away. But the toy winds up in an apartment filled with cats, so Gidget must learn how to be a cat in order to reclaim the toy.
In the meantime, Max and Duke are learning about life on a farm. In the country dogs do not sleep inside. They are relegated to the outside and the farm dog Rooster helps Max lose his fear of, well, everything. While on the farm, Max learns how to be brave.
Back in the city, the rest of the gang help Gidget recover Max's toy, however they are also on another mission. That is to save a sweet and timid white tiger from a mean trainer. They decide to get the tiger away from the circus and find him a new home where his life will not be in danger.
So, with all of these stories going on simultaneously, there are plenty of fun-filled furry antics at every turn. But besides the adorable movie, the Blu-ray is filled with plenty of bonus features.
There are two mini-movies: one with "Super Gidget" who must save her beloved Max, and one with the minions as they try to earn badges at scout camp. There is a "making of" feature about the mini-movies too.
Viewers learn how to draw some of the characters from the film as well as learn how to make their own flipbook. Perhaps you will see a budding animator emerge in your family with these features.
A closer look at the characters brings new insight into the film. There is also a featurette about how to throw a party for your pet, including how to make party hats, popsicles, and capes. Your pet(s) will have a great time.Deleted scenes and a few other bonuses round out the Blu-ray edition that includes a Blu-ray disc, a DVD, and a digital code. The movie is also available on a single DVD as well as a 4K edition with additional bonuses.
The Secret Life of Pets 2 is just as entertaining as the original film. It is rated PG for action and some rude humor.
About the Author
Francine Brokaw has been covering all aspects of the entertainment industry for over 25 years. She also writes about products and travel. She has been published in national and international newspapers and magazines as well as Internet websites. She has written her own book, Beyond the Red Carpet The World of Entertainment Journalists, from Sourced Media Books, is the entertainment correspondent for Good Day Orange County, and has her own TV show, Beyond the Red Carpet, on Village Television in Orange County.Follow her on Twitter.