The Science Behind Pixar Exhibition at the California Science Center
Category:
Activities, Performances, & Events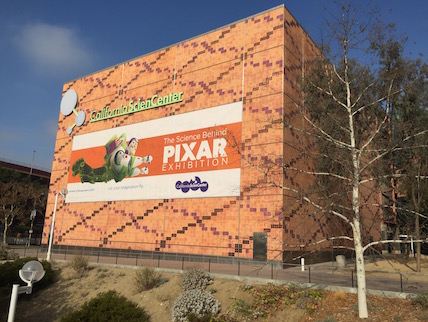 Visitors to the California Science Center in Los Angeles have a special treat. From October 15, 2016 through April 9, 2017 The Science Behind Pixar Exhibition will entertain and educate visitors young and old. Not only will they come face to face with many of their Pixar favorites, but there are also plenty of interactive exhibits that demonstrate the intricacies of making animation come to life.

"The art challenges the technology…and the technology inspires the art," said John Lasseter, Chief Creative Officer at Pixar/Disney. As visitors quickly realize, making an animated movie requires a lot of creativity as well as science. This is where artistic ability merges with science. Art, science, and math are all necessary ingredients in making animated films these days.
This 12,000 square foot interactive exhibit shows everything from lighting to layout, textures to surfaces, and sets to camera angles. For instance, have you ever heart of Bidirectional Reflectance Distribution Functions? BRDF, as it's known in the industry, is an important element in the process. Once you learn about this, you won't take lighting for granted. While you probably never thought about the lighting functions in any particular scene, other than to say "that's pretty," you'll soon learn exactly how lighting and reflections create the frames that make the movie come to life.

If you think you'll never use the math you learn in school, think again. If you want to work in animation, you'll need to know about algorithms. Science and math are part of the process and if you have enjoyed Dory, Sulley, Merida, and the other characters, you have enjoyed having science and math put to good use. For instance, using math made Lightning McQueen look like real metal. So yes, math is important for things other than balancing a checkbook or counting change.
For those who are not aware how a frame comes to the big screen, it goes through several steps: modeling, rigging, surfaces, sets & cameras, animation, simulation, lighting, and rendering. By watching the screens visitors to this exhibit learn exactly what each of these steps do to finally come up with the completed frame we see on film.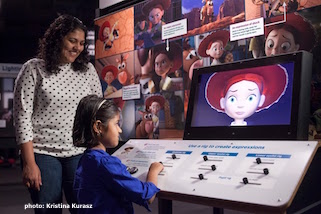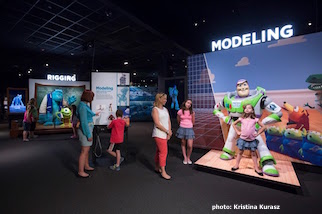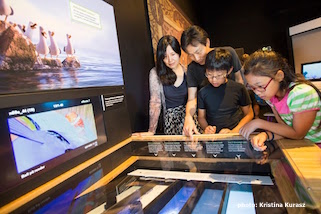 With 40 interactive exhibits, along with plenty of models and places for great photo ops, this exhibition is definitely something for the entire family. This is not only a fun exhibition, it is also eye-opening. Once you leave you will have a greater understanding of how your favorite Pixar films came to be, and you'll definitely have a greater appreciation for all the people who work at the studio. Today's animation is extremely technical. Art is important, but there are so many other things that go into making modern animation.
Did you know Sulley has 2.3 million hairs on his fluffy blue body? And for Finding Nemo, they had to find ways of making water look real from all angels. It's no easy task.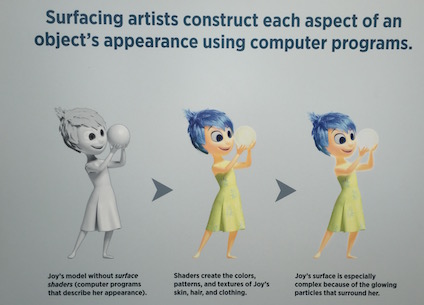 Besides having fun, what most visitors will take away from "The Science Behind Pixar Exhibition" is the amount of work that goes into making Wall-E, Joy, Merida, Russell, Nemo, Dory, and everyone else. The story is one thing but once that is ready, the real work begins.
About the Authors
Francine Brokaw has been covering all aspects of the entertainment industry for over 20 years. She also writes about products and travel.
Roy Brokaw writes about interesting things to do and places to see. He is also an accomplished travel photographer.