'The Rules of Love & Grammar' by Mary Simses – Book Review
Category:
Books and Music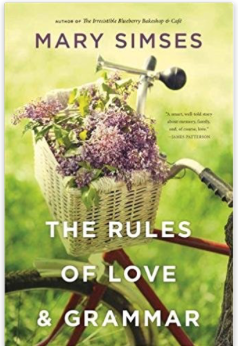 Author Mary Simses follows up on her successful first novel "The Irresistible Blueberry Bakeshop & Café" with another fun novel, "The Rules of Love & Grammar." This is the story of Grace Hammond, a young woman who is at the crossroads of her life.
Grace lives in New York City, but when she loses her job and boyfriend, and her apartment is flooded, she returns to her hometown in Connecticut to put the pieces of her life together and come to terms with her past. She is still suffering from the loss of her sister years ago. This hidden grief bubbles to the surface once she is back in her childhood home.
Also when she returns to her hometown, Grace reconnects with her best friend as well as her old school nemesis. The old insecurities arise and Grace finds herself trying to upstage this woman at every turn.
Grace is confronted by her high school boyfriend who is now a Hollywood director filming in his hometown. She also sees another old friend who owns a bike shop where Grace takes her sister's bike for restoration. The bike is a strong connection to her sister and Grace wants it restored to the way it was when she was alive. The problem is the restoration costs a lot of money, and since she is now out of work, she cannot pay for it. So, she takes a job helping out at the shop to swap her work for the restoration. It keeps her busy and she gets her sister's bike back to its original glory.
With all this going on, you might wonder where the "grammar" part of the story comes in. After all, this is titled "The Rules of Love & Grammar." Well, Grace is a proofreader, or at least she was when she had a job. Anyway, little grammatical mistakes really bother her. She even takes to correcting flyers in town. She cannot let grammatical errors go. To her it's the equivalent of nails on a chalkboard.
Now, for the "love" part of the story, it's up to Grace to figure out if she is in love with her Hollywood boyfriend and wants all that that entails, or perhaps the owner of the bike shop is more her style. She definitely wants a change from her life in the big apple. But which one is right for her, and who captures her heart?
Simses has a way of writing endearing characters that jump out of the pages. Her stories are filled with plenty of humorous situations – Grace sings the Happy Birthday song to her old boyfriend ala Marilyn Monroe – as well as heartfelt stories. "The Rules of Love & Grammar" is a cute novel. Simses' first book was made into a Hallmark Movies & Mysteries Channel movie. We'll have to wait and see if this one will follow and be produced for the small screen too.
About the Reviewer
Francine Brokaw writes about products, travel, and entertainment. She has been published in national and international newspapers and magazines as well as Internet websites. She has written her own book, Beyond the Red Carpet The World of Entertainment Journalists, from Sourced Media Books.
Follow her on Twitter