'The Reluctant Debutante' now on Blu-ray
Category:
Blu-ray's and DVD's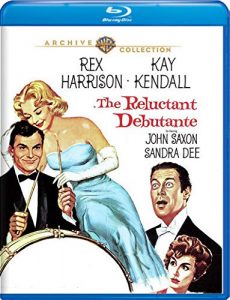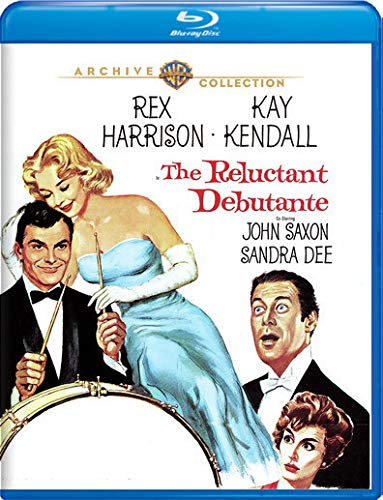 Vincent Minnelli directed Rex Harrison, Kay Kendall, and Sandra Dee in the 1958 film The Reluctant Debutante. John Saxon and Angela Lansbury also star in this wacky comedy about love and social values in the 1950s.
Jane Broadbent (Dee) is half British and half American. She comes to spend the summer with her British father Lord Jimmy Broadbent (Harrison) and his wife Lady Sheila (Kendall) and gets more than she bargained for. All she wants to do is to sightsee and enjoy the time with her father and learn about London. But when Sheila decides Jane must "come out" to London society, things get out of hand.
Seventeen-year-old Jane arrived in London during "the season" when debutantes are presented to society. She is the perfect age to find a prospective husband, and if Sheila has anything to say about it, he will be from a good family and have a title.
Sheila's cousin Mabel (Lansbury) and her daughter Clarissa (Diane Clare) are also on the hunt for a great catch for Clarissa. She has her eyes on David Fenner, a guard for the palace. And now Sheila thinks Fenner would be a good catch for Jane as well. But Fenner is an uptight, boring man and Jane wants nothing to do with him.
Then Jane meets David Parkson (Saxon), and America drummer. The two hit it off and are on the way to a wonderful relationship until Sheila and Jimmy discover he has a checkered past. Trying to keep Parkson away from Jane while pushing her toward Fenner is a full-time job, that comes off with some hilarity.
The repartee between Harrison and Kendall is amusing. They were married in real life at the time of this filming. This movie was made a year before Dee was thrust into the public's eye as Gidget.
While this is not the best movie for any of the main actors, it does have its moments. And the ending is hysterical.
The Reluctant Debutante is part of the Warner Archive collection and can be ordered from their website or other online retailers.
About the Author
Francine Brokaw has been covering all aspects of the entertainment industry for over 25 years. She also writes about products and travel. She has been published in national and international newspapers and magazines as well as Internet websites. She has written her own book, Beyond the Red Carpet The World of Entertainment Journalists, from Sourced Media Books, is the entertainment correspondent for Good Day Orange County, and has her own TV show, Beyond the Red Carpet, on Village Television in Orange County. Follow her on Twitter.