'The Reincarnation of Peter Proud' on HD mastered Blu-ray
Category:
Blu-ray's and DVD's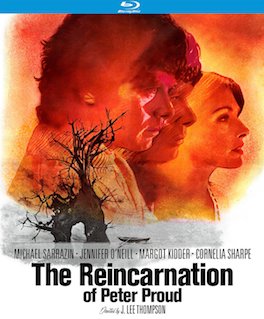 We only live once, or do we? Michael Sarrazin stars in The Reincarnation of Peter Proud, a 1975 thriller about a man who discovers his past life. Is that a blessing or a curse?
Sarrazin is college professor Peter Proud. He is suffering from horrible nightmares, but according to Dr. Sam Goodman (Paul Hecht), they aren't nightmares at all. He is experiencing something unexplainable. Then one day he sees the images on TV of a town that he has been "dreaming" about. In his dreams he lives in this town in the 1940s. And it's there where he was murdered.
Proud travels to Massachusetts to locate this town that has been haunting him in his dreams, and finally figure out what is really going on with him. He discovers Marcia (Margot Kidder), his wife from his past and his daughter Ann (Jennifer O'Neill) still living there. Ann was a few months old with her father Jeff (Tony Stephano) died.
As Proud puts the pieces together he knows for sure that he has been reincarnated. He was Marcia's husband and Ann's father. But in this lifetime he is not Ann's father and the two begin a romantic relationship. Is that incest? Well, if, as Proud's experience has demonstrated, we have all been here before, who knows whom we were with in the past? In any case, Peter is finally coming to terms with his dilemma and coming to terms with the entire situation, even the fact that Marcia brutally killed her husband all those years ago.
With a haunting score by Jerry Goldsmith, the story (taken from the novel by Max Ehrlich) is electrifying. It is just as captivating and unforgettable now as it was when it first came out. It is a chilling yet thought-provoking story.
Sarrazin had an impressive resume of films from 1966-2012, including They Shoot Horses, Don't They, Harry in Your Pocket, For Pete's Sake, and more. O'Neill caught the attention of audiences in the 1971 film Summer of '42, and is still acting today. And Kidder might best be known for her role of Lois Lane in the 1978 film Superman, Superman II in 1980, Superman III in 1983, and Superman IV in 1987.
The Reincarnation of Peter Proud is an interesting movie and even if you know the shocking ending, it still manages to capture your attention as the story unfolds and Peter Proud tries to reconcile his past life with his present one. The movie is rated R (there is nudity and smoking throughout).
About the Author
Francine Brokaw has been covering all aspects of the entertainment industry for over 20 years. She also writes about products and travel. She has been published in national and international newspapers and magazines as well as Internet websites. She has written her own book, Beyond the Red Carpet The World of Entertainment Journalists, from Sourced Media Books.
Follow her on Twitter