'The Railway Children' on DVD
Category:
Blu-ray's and DVD's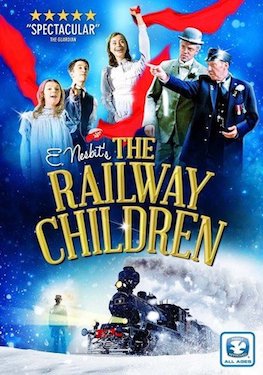 In 1906 E. Nesbit penned the novel "The Railway Children." Little did he know that this story would become a beloved tale for generations. It has since been made into films, TV series', and performed on stage. This new DVD is a filmed version of the play performed at the National Railway Museum in Yorkshire. The staging is interesting and the actors bring the viewers right into their story. This version was broadcast live in England in 2016, and now American viewers can immerse themselves in this beloved story.
Roberta (Bobbie), Peter and Phyllis are upper class kids with maids and no worries at all. That is until their father is taken away and imprisoned for spying. Their mother moves them out to the country where their lifestyle changes overnight. They call their new house "Three Chimneys" and it's there they become "The Railway Children."
They live by the railway line where they hang out, watching the trains and waving to the people. As the days go by, they befriend some people who they would never have talked to in their former lives. They help out others and learn that they don't need the trappings of wealth to be happy and vibrant human beings.
They then turn their sights on finding out about their father. They don't believe he could be a spy.
This is a heartwarming story of family and friendship. It's a little different in that it is a stage play, and performed in the museum. But the charm is still there. It has all of the discovery and adventure, as well as the lessons of friendship and helping others that is the heart of the story.
This DVD is not rated however it is suitable for all ages.
About the Author
Francine Brokaw has been covering all aspects of the entertainment industry for over 20 years. She also writes about products and travel. She has been published in national and international newspapers and magazines as well as Internet websites. She has written her own book, Beyond the Red Carpet The World of Entertainment Journalists, from Sourced Media Books.
Follow her on Twitter