'The Quiet Man' – Olive Signature Series on Blu-ray
Category:
Blu-ray's and DVD's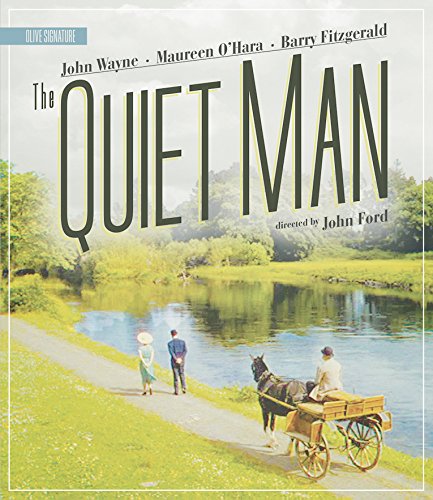 The 1952 classic movie, The Quiet Man, won two Academy Awards (for director John Ford and Cinematography) and was nominated for several others. Ford also picked up the Directors Guild of America award and, according to many, is considered one of the best directors in history. The Quiet Man reunited John Wayne with Maureen O'Hara in this tale of a retired American boxer who moves back to his homeland of Ireland.
Sean Thornton (Wayne) is dejected after an accident in the boxing ring in which he killed an opponent. He wants to change his life and live in peace so he decides to move back to a small village in Ireland with the idea of buying his family's homestead. With his eye on the property as well, Will Danaher (Victor McLaglen) is livid when his sister Mary Kate (O'Hara) and Thornton become involved in a romantic relationship. They have a stormy relationship and an even stormier marriage as she refuses to consummate their marriage until her dowry is received, which Will is withholding. However she holds fast to her Irish tradition. This is a true love story in every sense of the phrase. Barry Fitzgerald is delightful as the Irish matchmaker.
The film was shot on location with extraordinary scenery and the lush green land of the emerald isle. The chemistry between Wayne and O'Hara makes this film as memorable as it is and heartwarming to viewers. This is one of Ford's classic films and in the bonus features viewers have a treat with some background information in a "making of" feature hosted by Leonard Maltin.
Ford picked up his fourth Academy Award for this film. This behind the scenes feature looks at his history with the film and with the actors. The famed director insisted the movie be shot on location, which was a rarity in those days, especially for the small studio that was making the film. He also insisted it be filmed in Technicolor, something fans have definitely appreciated.
The story was originally a short story which Ford purchased for a mere ten dollars. He knew he wanted to make it into a feature film but that took plenty of effort and time. In order to make this film with the studio, Ford had to make the movie Rio Grande, which also starred Wayne, O'Hara, and McLaglen. With the success of that film he got the green light (no pun intended) to go ahead with The Quiet Man.
There is also a tribute to O'Hara with three of her co-stars – Juliet Mills, Hayley Mills, and Ally Sheedy. They describe her inner and outer beauty and say she had an "aura" about her, as well as grace and kindness. For Hayley, who costarred with O'Hara in the classic 1961 movie The Parent Trap, she said working with the actress was "a treat." She also said O'Hara "exuded love of life."
Another bonus looks at the vision John Ford had for the various scenes of the film.
Wayne and Ford worked together on fourteen films, including The Man Who Shot Liberty Valance, Donovan's Reef, She Wore a Yellow Ribbon, The Searchers, and Stagecoach. Wayne and O'Hara teamed up in five films: Rio Grande (1950), The Quiet Man (1952), The Wings of Eagles (1957), McClintock! (1963), and Big Jake (1971).
The Olive Signature Collection of The Quiet Man is a must-have for fans of this classic film. It has been remastered in 4K. It is truly a beautiful edition of this beloved story filled with drama, comedy, and true love.
About the Author
Francine Brokaw has been covering all aspects of the entertainment industry for over 20 years. She also writes about products and travel. She has been published in national and international newspapers and magazines as well as Internet websites. She has written her own book, Beyond the Red Carpet The World of Entertainment Journalists, from Sourced Media Books.
Follow her on Twitter