The Pleasure Seekers on DVD
Category:
Blu-ray's and DVD's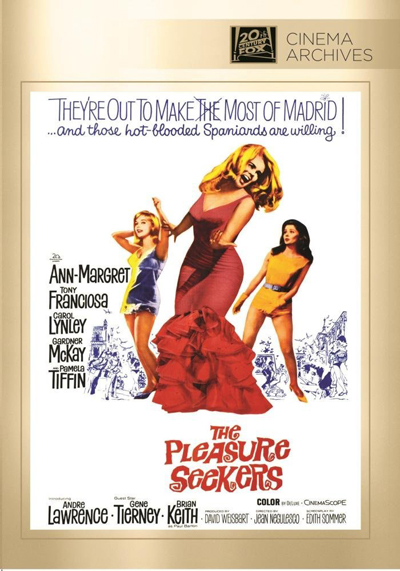 This 1964 movie stars several top actors of the day. Ann-Margret, Tony Franciosa, Carol Linley, Gardner McKay and Pamela Tiffin, along with Andre Lawrence play six twenty-something singles in Madrid who meet and ultimately fall in love. The Pleasure Seekers is an updated version of the classic 1954 movie Three Coins in a Fountain, with a different location and several musical numbers, but the same basic plot of three American women in a foreign country who find the men of their dreams.
Fran (Ann-Margret) is a nightclub singer. Her roommate is Maggie (Linley) who works for a news organization. Maggie is the secretary to Paul Barton (Brian Keith) and has been in love with him for a long time, even though he's married to Jane (Gene Tierney). She often commiserates with her co-worker Pete (McKay) who is a sensitive guy who has a lot of girlfriends but is serious about his career.
Maggie's college roommate arrives in Madrid to stay with the two girls. Susie (Tiffin) is a dimwit in many ways. She is definitely not sophisticated or worldly. When she meets Emilio (Franciosca), she thinks he is a bum because he is spending his afternoon in a museum, but in reality he is very rich.
Meanwhile, Fran has an accident and is cared for by a young doctor. Andres (Lawrence) and Fran hit it off in more ways than one when his motorbike strikes her in the street. He cares for her then leaves.
So, that about sets up the prospective couples. Fran falls for Andres who lives in a small village and does not feel he can support an American wife. Maggie falls for the rich, womanizing, bachelor who won't commit to any woman. And Maggie loves her boss but discovers Pete is more her type.
Whit all this hubbub going on, Ann-Margret manages to sneak in some delightful songs. The music is fun and sensitive, upbeat yet warm. The songs really add to the entertainment factor of this film.
While it is definitely predictable and is based on the classic movie, The Pleasure Seekers is still an entertaining and fun movie. Yes, it is dated, and yes, it is not award-caliber acting, but it was nominated for an Academy Award for Best Music. From the FOX Cinema Archives, The Pleasure Seekers is definitely an enjoyable film. It's not rated however I would personally rate it PG for suggestive material.
About the Author
Francine Brokaw has been covering all aspects of the entertainment business for 20 years. She also writes about technology and has been a travel writer for the past 12 years. She has been published in national and international newspapers and magazines as well as internet websites. She has written her own book, Beyond the Red Carpet The World of Entertainment Journalists, from Sourced Media Books.
Follow her on Twitter
Like her on Facebook