The Perfect Wave DVD
Category:
Blu-ray's and DVD's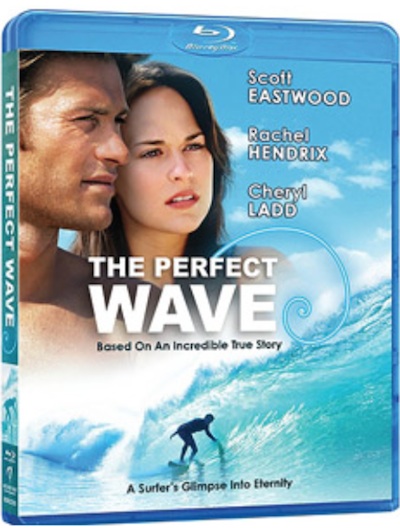 Scott Eastwood and Cheryl Ladd star in this movie inspired by a true story. At the heart of The Perfect Wave is the belief in God.
When he was a young boy, Ian did not believe in God. He stopped going to church with his family. Instead he felt closer to the ocean and the perfect wave than he did to anything religious. His spirituality was being one with the wave. He felt free and alive when he was surfing.
His mother, however, had a different belief. She had experienced God in her own way and truly believed in a higher power. She had a deep connection to a higher power.
When Ian decided to take off on the trip of a lifetime, that is exactly what he got, literally. His plan was to surf, party, and enjoy the planet with great waves and interesting people. He was free and young, and thought this would be the best way to honor his freedom before settling down.
The scenery in the film is beautiful. It was shot in Indonesia, South Africa, and Mauritius. It's not a surfing movie in the true sense of the word. If you are looking for a surfing movie, this isn't it. This is a movie about one surfer who finds a different path in life. He catches the perfect wave of spirituality.
How does he do this? After an accident, Ian is pronounced dead. Thousands of miles away his mother feels there is something wrong with her son and begins praying for him. But Ian, who formerly didn't feel any connection to God, has an interesting experience. He hears God for the first time. And he sees what is waiting for him if he were to die. Does he want to die?
Ian decides to return to life and tell his experience to anyone who will listen. The real Ian is now a Christian Evangelist. His experience with death is part of his story of life.
If you don't want a spiritual story, don't watch this movie. It's definitely geared for those who are open to Ian McCormack's story. If you are interested in watching the story of this young surfer whose life was changed by one experience, then this is for you. Note: it's a Christian story.
The Perfect Wave is not rated.
About the Author
Francine Brokaw has been covering all aspects of the entertainment business for 20 years. She also writes about technology and has been a travel writer for the past 12 years. She has been published in national and international newspapers and magazines as well as internet websites. She has written her own book, Beyond the Red Carpet The World of Entertainment Journalists, from Sourced Media Books.
Follow her on Twitter
Like her on Facebook