'The Peanuts Movie' Collector's Edition
Category:
Blu-ray's and DVD's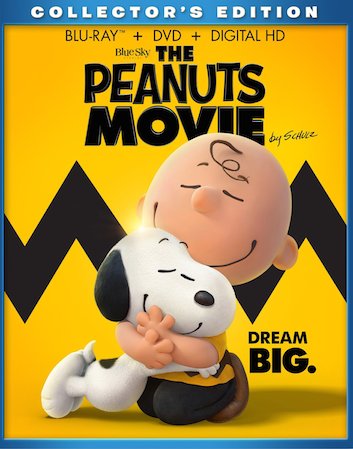 Last year The Peanuts Movie delighted fans of Charlie Brown, Snoopy, and the entire Peanuts gang. The Peanuts Movie Collector's Edition includes both the Blu-ray and a DVD as well as Digital HD code. Besides the fun film, there are plenty of bonus features.
It has been 65 years since Charlie Brown, Shermy, and Patty began this iconic comic strip by Charles Schultz. Through the years other characters joined the group, yet it was Charlie Brown who appeared in the first strip on October 2, 1950 and the final strip on October 4, 2000. For fifty years generations couldn't wait to grab the newspaper to see what the loveable Peanuts kids were up to.
Charlie Brown, Snoopy, Woodstock, Linus, Lucy, Schroeder, Sally, Peppermint Patty, Marcie, Patty, Pig-Pen, Violet, Shermy, Franklin, and the Little Red-Haired Girl are even more endearing in this movie, if you can believe it. Charlie Brown continues to try to kick that football and to get his kite in the air, Lucy continues to give out psychology advice for five cents, Schroeder's piano playing is even better than ever, and Linus is still Sally's "Sweet Babboo."
The main premise of the film is Charlie Brown's attempts to get the attention of The Little Red-Haired girl who moved in across the street. While he has been called "wishy-washy" throughout the years, this movie demonstrates his true worth. He is compassionate, honest, brave, and funny. For anyone who has identified with this little boy over the years, take heart. This fellow comes out on top.
"Good Ol' Charlie Brown" has often been derogatory however in this movie it is a phrase that truly encompasses this iconic character. Good Ol' Charlie Brown is a sweetheart and selfless.
The bonus features include "Snoopy Snippets" with several short clips of the dog everyone loves. And how can anyone not smile when they hear his laugh? It's impossible.
Another bonus looks at the timeless situations and deep thoughts of the Peanuts gang. They represent the lives of people around the world, and "always with a laugh." The "themes are universal" and this movie introduces the gang to a new generation to take to their hearts. There is some background information on Charles M. Schultz who started with a strip titles "Li'l Folks" which evolved into "Peanuts" in 1950. Viewers learn how he got his nickname "Sparky." And there is a featurette back stage at Blue Sky.
During the final credits of the film there are some cute snippets, so don't stop the disc when the credits start to roll or you'll miss seeing Snoopy and all his siblings. A bonus featurette on the disc looks at this little clip and Snoopy's brothers and sisters.
Rounding out the bonuses are several music videos and easy to follow lessons by director Steve Martino on how to draw Snoopy, Woodstock, and Charlie Brown.
The Peanuts Movie is imaginative, creative, and thoroughly enjoyable with all the loveable characters we have come to know through the years. It's rated G.
About the Author
Francine Brokaw has been covering all aspects of the entertainment industry for 20 years. She also writes about products and travel. She has been published in national and international newspapers and magazines as well as Internet websites. She has written her own book, Beyond the Red Carpet The World of Entertainment Journalists, from Sourced Media Books.
Follow her on Twitter