'The Oscar' now on Blu-ray
Category:
Blu-ray's and DVD's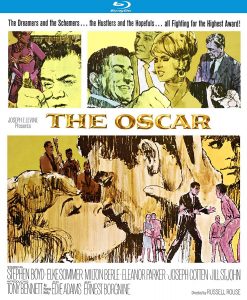 The 1966 film The Oscar was nominated for two Oscars (Best Art Direction and Best Costumes) but came away empty. The film is a gritty look inside the entertainment business.
Stephen Boyd plays Frank Fane, a ruthless street-smart man who claws his way to the top of the acting business. He was "discovered" by accident. When he moves to Hollywood he climbs the ladder however he has a reputation of being a difficult actor. His best friend Hymie (Tony Bennett) enables his actions and is his biggest supporter, even when he knows how despicable Fane is becoming.
Fane is a self-centered, egotistical, ruthless, conniving, greedy, dishonorable man. His wife (Elke Sommer) does not see this side of him. Yet she does take offense to his womanizing all around town.
His agent (Milton Berle) knows how difficult actors can be, but he has his hands full with this one. Fane thinks he can order everyone around and his demands are well over the top.
When he is at the bottom of his game he gets nominated for an Academy Award. This new attention energizes his greed and he will stop at nothing to get the Oscar.
An A-list cast makes this an interesting film. Jill St. John, Eleanor Parker, Joseph Cotton, Edie Adams, Ernest Borgnine, Ed Begley, Broderick Crawford, Walter Brennan, and Peter Lawford join Berle, Sommer, Bennett and Boyd in the muck of Hollywood. Hedda Hopper, Edith Head, Bob Hope, Frank Sinatra, Nancy Sinatra, and Merle Oberon appear as themselves to give the film a realistic tone.
The movie shows the greed and disregard for others by this callous man who steps on everyone on his way to the top. But will he actually make it to the top or will his heartless actions be the end of him?
This is an interesting look at Hollywood but a more entertaining film about the business is "Valley of the Dolls." The cast in this film, however, is outstanding!
The Oscar is not rated. It is not suitable for kids.