'The Nut Job 2: Nutty by Nature' on Blu-ray Combo Pack
Category:
Blu-ray's and DVD's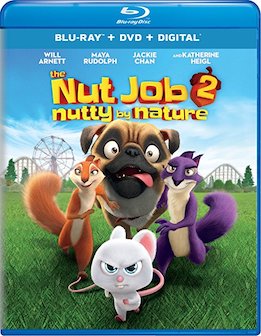 In 2014 a group of nutty (no pun intended) park critters stole the hearts of movie audiences. Led by Surly (Will Arnett) the gang headed for the Nut Store where food was plenty. Now The Nut Job 2: Nutty by Nature follows the further escapades of this little gang as they join together to save their home.
The story picks up where the first left off. Surly and his friends are living in the Nut Store because it was closed and the owner left all of the products behind. There are enough nuts to last years. But Andie (Katherine Heigl) isn't pleased with the gang that abandoned their roots (again, no pun intended) and left the park, the trees, and their natural habitat for the good life in the store. She sees them losing their natural instincts and insists they return to the park.
That's the last thing they want. After all, it's a comfortable life in the Nut Store. No climbing trees and no foraging for food. They're living the good life. But in an instant all of that is gone so they are forced to return to nature.
Things are going all right until the greedy mayor decides to build an amusement park on the site of Liberty Park. After all, the park isn't bringing in any revenue so he feels an amusement park would add to his wallet.
The animals band together to take on the mayor and the construction crew, as well as the shabby rides that are built on their home-site. They get the assistance of an unusual group of mice who have taken over part of the city after they had to leave their own home when a golf course was built there. So now the whole gang sets up barriers and obstacles for the new amusement park hoping to save their home and return the site to Liberty Park.
Liam Neeson, Brendan Fraser, Maya Rudolph and the other actors from the first show return to voice their characters. And the third film in the franchise is scheduled for release in 2019.
The Blu-ray combo pack includes some deleted scenes. Viewers can also see the concept art that was the foundation for the show, as well as see how scenes are brought to life from the original storyboards to the final animated scenes. The movie is also available on DVD.
The Nut Job 2: Nutty by Nature is rated PG for action and some rude humor.
About the Author
Francine Brokaw has been covering all aspects of the entertainment industry for over 20 years. She also writes about products and travel. She has been published in national and international newspapers and magazines as well as Internet websites. She has written her own book, Beyond the Red Carpet The World of Entertainment Journalists, from Sourced Media Books.
Follow her on Twitter