'The Music of Pixar Live! – A Symphony of Characters' at Disney's Hollywood Studios at WDW
Category:
Travel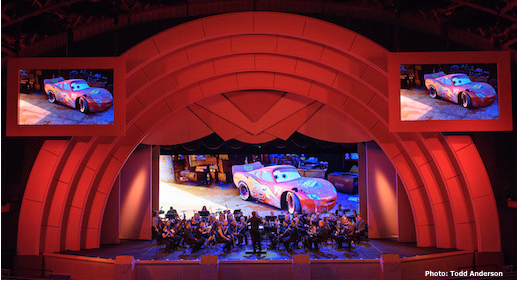 During the summer of 2017 guests at Walt Disney World's Hollywood Studios will be greatly entertained by the new concert in the park's Hollywood Bowl-style theater. This is a concert for eyes and ears. "The Music of Pixar Live! – A Symphony of Characters" features scenes from several popular films while a full orchestra plays the memorable music from the movies.
When guests enter the Theater of the Stars, they are initially greeted by Green Army Men who are also on hand at the end of the concert. Video segments from Finding Nemo, Toy Story, Finding Dory, Cars, Up, and The Incredibles play on large screens while the orchestra plays the live music. There are also behind-the-scenes segments from Pixar that give guests more insight into the movies and the music.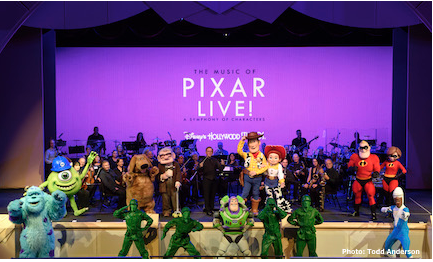 The characters themselves also make live appearances throughout the show. Monsters Inc.'s Mike Wazowski tells some jokes while Sulley interjects his own comments. Carl Fredricksen and Dug appear to show off the segments from Up. Woody, Jessie, and Buzz are on hand to celebrate the Toy Story clips. And Dory is there before the Finding Nemo and Finding Dory segments.
At the end of the concert, all the characters join together in the theater to highlight the celebration of the movies and the music of their iconic films. And guests follow along to the lyrics of "You've Got a Friend in Me" in a joyful finale. While exiting the theater the Green Army Men are once again present to put in a final appearance.
This is a special treat for guests to Disney's Hollywood Studios. It is a show of sights and sounds, and will leave everyone happy and content. By combining a live orchestra with clips and characters, the concert is a memorable experience for every member of the family. All ages will enjoy it. It brings up all the emotions of the films with sights and sounds that wow the senses.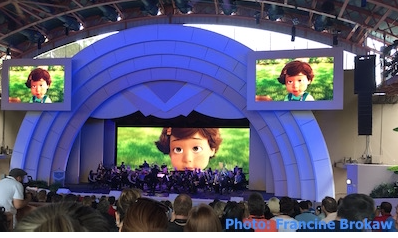 When you are in WDW this summer, definitely check the schedule for the concert and stop by to experience the fun for yourself.
On a personal note: As someone who loves these movies and comes from a musical background, this performance was one of the most memorable concerts I have been to in a long time. Everything about it was enjoyable, and having a full live orchestra combined with the visuals made it an experience I highly recommend to everyone. Unfortunately, it goes away on August 27, 2017.
About the Author
Francine Brokaw has been covering travel and entertainment for over 20 years. She also writes about products and travel. She has been published in national and international newspapers and magazines as well as Internet websites. She has written her own book, Beyond the Red Carpet The World of Entertainment Journalists, from Sourced Media Books.
Follow her on Twitter