The Moment – Movie Review
Category:
Movies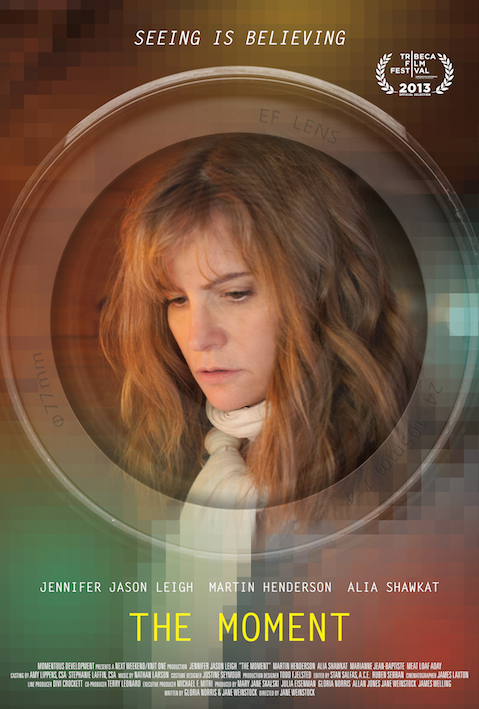 Jennifer Jason Leigh stars in this psychological thriller that takes viewers through twists and turns as the story plays out on screen. The Moment is an intense story of emotions, love, and family.
Lee (Jennifer Jason Leigh) is a photojournalist specializing in war. In her job she sees the horrors of what war does to people. After being injured in a bombing in Somalia, she is sent to recover in a hospital in Southern California. There she meets a writer and former teacher. John (Martin Henderson) befriends her and her daughter Jessie (Alia Shawkat) who visits her mom every day even though their relationship has been rocky, to say the least.
The film bounces around through time, between Lee's time in Somalia, her days in the hospital, her affair with John, and then her days spent in a mental institution, after a breakdown. Lee does not know what is true and what is just in her imagination, and several scenes replay different ways. Audience members try to put the pieces of the puzzle together along with Lee herself. Could she be a killer? What happened to John? He disappeared from the face of the earth?
And add to all of this Peter, a man with emotional problems who is also in residence at the psychological facility where Lee is trying to figure things out, looks very similar to John. Peter, an attorney trying to cope with the fact that he got a murderer off scot-free who then went on to kill again, is understanding and tries to help Lee figure out what happened to John.
Between the intense affair with John, his disappearance, her breakdown, and trying to figure things out what with the help of Peter, viewers will often wonder who is whom and what is really going on. It is definitely a little disjointed as the story bounces between her past and the present, then back again, but in the end most of it winds up making sense.
Marianne Jean-Bapiste, Meat Loaf, Alessandra Torresani, and Navid Negahban also star in this intense story that is difficult to follow at times, yet filled with suspense and drama. Jennifer Jason Leigh is marvelous as the woman completely absorbed by the disappearance of her former lover.
The Moment opens June 20, 2014 in select theaters.
About the Author
Francine Brokaw has been covering all aspects of the entertainment business for 20 years. She also writes about technology and has been a travel writer for the past 12 years. She has been published in national and international newspapers and magazines as well as internet websites. She has written her own book, Beyond the Red Carpet The World of Entertainment Journalists, from Sourced Media Books.
Follow her on Twitter
Like her on Facebook