'The Merry Widow' on DVD
Category:
Blu-ray's and DVD's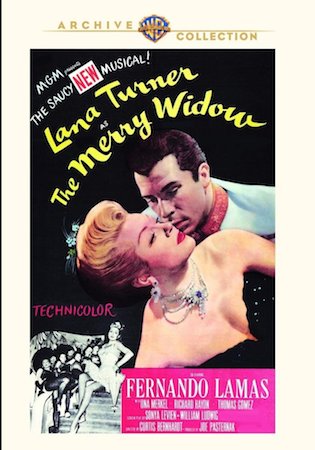 The Merry Widow stars Lana Turner and Fernando Lamas in this often-told story based on the famous operetta by composer Franz Lehar. Actually, this is just one of the movies based on this story. It was reproduced throughout the 20th century.
The story is about a wealthy American widow, Crystal Radek (Turner), who has just inherited $80 million. The year is 1900 and at that time (it still is) $80 million was a lot of money. Her husband came from a tiny country of Marchovia, which currently is on the verge of bankruptcy. If they cannot pay their debt, Austria will come in and annex the tiny country.
The king devises a plan. He proposes to bring the widow to Marshovia and have his playboy nephew Danilo (Lamas) woo her, marry her, and therefore solve their financial problems. Danilo is no stranger to wooing women. He loves women. Reluctantly he agrees to go along with the plan, which is basically an order from the king. But through mistaken identity, Danilo thinks he is to woo Mrs. Radek's assistant who is traveling with her. He does not find her attractive and balks at the plan, but the king has ordered him to seduce her and he intends to do so, reluctantly.
When the two women discover the plan, they immediately leave for Paris. There they devise their own plan. All the men of Paris are after the rich widow, so they two women change identities. When Danilo comes to Paris to finish what he started, he falls in love with a woman he thinks is poor. He and Mrs. Radek do have feelings for each other, even though he thinks she is someone else. What is he to do? Follow his heart of save his country?
The Merry Widow was originally produced on film in 1925. This was a silent version starring John Gilbert and Mae Murray. It was reproduced in 1934 with Maurice Chevalier and Jeanette MacDonald. This 1952 version was nominated for two Academy Awards. This is a film with big sets and lavish musical numbers. It represents the quintessential musical of the time. It was nominated for an Oscar for best art direction and set decoration for a color film, and for best costume design for a color film.
This 1952 version was not the final time the story was produced. In 1958 a version starred June Bronhill and Thomas Round was produced for TV, and in 1968 there was another TV movie starring Mary Costa and Jeremy Brett and in 1988 the story was reimagined with Joan Sutherland and Ron Stevens. 1983 brought a ballet version of the famous operetta to TV viewers.
Needless to say, this is a story that has captured the hearts of audiences for a century.
The Merry Widow is part of the Warner Archive Collection and can be ordered from their website.
About the Author
Francine Brokaw has been covering all aspects of the entertainment industry for 20 years. She also writes about products and travel. She has been published in national and international newspapers and magazines as well as Internet websites. She has written her own book, Beyond the Red Carpet The World of Entertainment Journalists, from Sourced Media Books.
Follow her on Twitter