The Mechanic on Blu-Ray
Category:
Blu-ray's and DVD's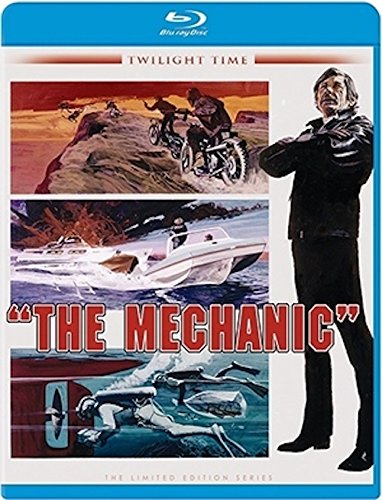 This 1972 film is considered a classic among many Charles Bronson fans. Bronson is at the top of his game as a hired hitman who takes on an associate to teach him his ways. The Mechanic is filled with psychological intrigue and plenty of drama.
Bronson is Arthur Bishop, a mild-mannered man, cool, calm, and collected hitman. He's also methodical, which helps in his job – as a hitman for the mob. This guy plans out everything, takes his time, gets to know his marks, then strikes at the ultimate moment, and most times the hits are made to look like accidents, or even heart attacks.
When a young man, Steve McKenna (Jan-Michael Vincent), an odd guy, really, takes an interest in Bishop, the older man sees the potential in him. He takes him under his wing and teaches him the tools of the trade. McKenna is ruthless and eager to learn from the best, and become a hitman like Bishop.
The problem comes when the mob discovers Bishop has been training McKenna and has taken him on as an associate, without informing them. The mob likes to know everything that goes on. Bishop broke a rule.
While it might seem like the best idea for Bishop to train a protégé, the mob doesn't see it that way. Bishop is happy to have this young man step into his shoes. After all, he doesn't know how much longer he will be doing his job, and having someone trained by him to be the best seems like a good idea. But not to the mob.
It's interesting to watch Bronson's character throughout the entire movie. He is very laid back and takes things as they come without showing any emotion. It's like watching an artist create a great painting. He knows what he wants to do and simply goes about doing it. End of story. Or is it?
By bringing McKenna into the fray, Bishop has made enemies in the mob. Just what they intend to do about it is a spoiler I won't divulge. Let's just say the final scene is worth the entire movie, and tells everything there is to know about Arthur Bishop.
Charles Bronson is wonderful to watch and it seems as if this role was created for him. A bonus feature on this edition is an isolated score track by Jerry Fielding, a three-time Oscar nominee.
The Mechanic is rated PG.
About the Author
Francine Brokaw has been covering all aspects of the entertainment business for 20 years. She also writes about technology and has been a travel writer for the past 12 years. She has been published in national and international newspapers and magazines as well as internet websites. She has written her own book, Beyond the Red Carpet The World of Entertainment Journalists, from Sourced Media Books.
Follow her on Twitter
Like her on Facebook