'The Magnificent Seven' on Blu-ray
Category:
Blu-ray's and DVD's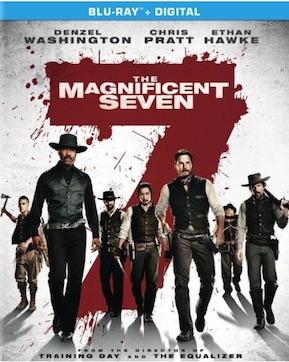 This new version of the classic 1960 Western The Magnificent Seven, stars Denzel Washington as the leader of a gang of misfits who are just hanging on after the Civil War. When a woman (Haley Bennett) approaches him about retaking her town from a ruthless mining mogul (Peter Sarsgaard), he decides to help her and recruits six others to take back the town and help the law-abiding people who simply want to keep their land and make an honest living.
Chris Pratt, Ethan Hawke, Vincent D'Onofrio, Byung-hun Lee, and Manuel Garcia-Rulfo join Washington as the seven gunslingers who march into the town and set up a plan to take it back from the "bad guys." The original movie starred some of the top actors of the time: Yul Brynner, Steve McQueen, Horst Buchholz, Charles Bronson, Robert Vaughn, James Coburn, and Brad Dexter as the seven, with Eli Wallach as the head of the gang terrorizing a small Mexican town.
The Blu-ray contains both the theatrical film as well as a "Vengeance Mode" in which the director and cast discuss the background of the production as the scenes are playing on screen. In the six featurettes viewers see how the story came to be and how the cast was assembled. This post-Civil War era was a time of confusion for many of those who fought. The band of misfits found "something to fight for" again as they banded together for the sake of the small town pf Rose Creek. The movie town was built in Louisiana, and the cast describes shooting in the heat of the South.
Chris Pratt loved the "horse and gun training," and said it was "so much fun" for him and the rest of the cast. They were, in his words, "a bunch of big kids" while filming the movie.
Plenty of physicality was required by the case even though there were stunt doubles. And shooting guns was something they all enjoyed practicing.They all enjoyed "playing" gunslingers and twirling their guns.
The Magnificent Seven is available on Blu-ray as well as in a 4K Combo Pack and a DVD. It's rated PG-13 for extended and intense sequences of Western violence, and for historical smoking, some language, and suggestive material.
About the Author
Francine Brokaw has been covering all aspects of the entertainment industry for over 20 years. She also writes about products and travel. She has been published in national and international newspapers and magazines as well as Internet websites. She has written her own book, Beyond the Red Carpet The World of Entertainment Journalists, from Sourced Media Books.
Follow her on Twitter