The Little Rockers Band: Count Me In! CD GIVEAWAY
Category:
Giveaways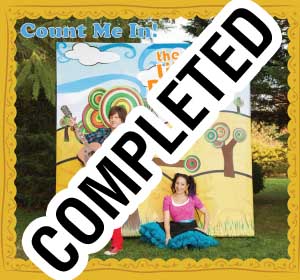 It's a rocking dance party all the way on this album.  Count Me In! stays the course, with The Little Rockers Band remaining true to their commitment to creating music that speaks to children's real life experiences through songs as varied in style as their subjects.  On Count Me In! families will hear a '90s rocker, a '50s style rave up, a honky-tonk country tune, a Motown scorcher, a beachy/acoustic cover of a Paul Simon classic, and more.
This fun CD includes 11 cool songs including a fun spin on Old MacDonald, only this time it's "Old Mick Jagger". You have to hear it to appreciate the fun of this song. And there are plenty more great tracks for kids to enjoy, and this is something parents won't mind hearing over and over again either.
We have five (5) CDs to give away. To be eligible to win a copy of The Little Rockers Band: Count Me In! CD, email us at [email protected] with "Little Rockers Giveaway" in the title. Please supply your name, address, phone number and email address (so we can let you know if you are a winner).
The deadline for this giveaway is March 14, 2014.