The Little Rascals Save the Day
Category:
Sneak Peeks & Trailers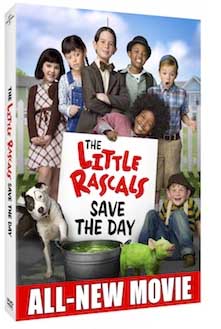 AMERICA'S FAVORITE PINT-SIZED MISCHIEF-MAKERS ARE BACK IN AN ALL-NEW HEARTWARMING AND HILARIOUS MOVIE!
In the spirit of the treasured Our Gang comedies, The Little Rascals Save the Day finds the most entertaining bunch of third graders in town hatching a series of madcap schemes to earn enough money to keep Grandma's (Doris Roberts of "Everybody Loves Raymond") bakery out of the clutches of conniving businessman Big Ray (Greg Germann of Here Comes the Boom). From caddying to pet care to taxi service, each of their plans goes hilariously awry until they are left with just two options: find a way to win the local talent show or wave goodbye to the best cupcakes a kid ever tasted!
Eden Wood of the hit reality series "Toddlers and Tiaras" makes her feature film debut as pint-sized coquette, Darla, along with the fresh young faces of Camden Gray, Chase Vacnin, Connor Berry, Drew Justice, Grant Palmer II, YouTube sensation Isaiah "Zay-Zay" Fredericks, Jet Jurgensmeyer, Jenna Ortega and Rio Mangini in the iconic Rascals family-friendly original comedy.  Adult actors Valerie Azlynn ("Sullivan and Son") and Lex Medlin ("Drop Dead Diva") complete the cast.
The Blu-ray Combo Pack includes a Blu-ray, DVD and DIGITAL HD with Ultraviolet.
Have more fun with The Little Rascals by downloading these activities: