'The Lion Guard: The Rise of Scar' on DVD
Category:
Blu-ray's and DVD's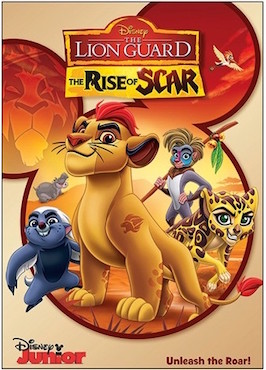 Join Kion and the rest of The Lion Guard in five music-filled and exciting episodes on this new DVD. Kion, Bunga, Beshte, Fuli, and Ono look out for all creatures in the Pride Lands, and even in the Outlands, as viewers see.
"The Rise of Scar" has the group out to save Kira who has been taken by Janja and his group of hyenas. They want to stir up the anger within Kion so he will use his roar that will ultimately summon Scar. But can his roar be used to talk to evil lions or just to connect with his grandfather Mufasa and the good lions who came before? Unfortunately, Rafiki's new and young, not to mention overly enthusiastic apprentice Makini is a bit too talkative and gets everyone into some trouble.
In another episode, "The Trouble with Galagos", a leopard who has left the Back Lands, is taught to stand up for himself by Kion and the guard. He had been kicked out of his home and willing to share the Galagos' tree with them, but they want their tree back so it is up to Kion and The Lion Guard to escort him back to his rightful home and teach him how to be tough and stand his ground.
Then in "Janja's New Crew" Kion and his team again are on guard to maintain the Circle of Life. In "Baboons!" The Lion Guard helps a baby baboon while avoiding some pitfalls along the way.
"Lions of the Outlands" once again summons up the past with Scar. Although he is not part of this story, his evil history is. Scar's girlfriend Zira and her mangy family and friends are living outside of the Pride Lands. Zira is the Queen of this area. They are the Outsiders who were banished by Simba years before. As cohorts of Scar, they are evil lions and not willing to maintain the Circle of Life. Zira attempts to win Kion over to her point of view, but that isn't going to happen. Good wins over evil.
With plenty of music and all the fun of The Lion Guard, there is a lot of viewing in this new DVD. The movie, aka an extended episode, The Lion Guard: The Rise of Scar is filled with characters, color, and conflict as danger looms all around The Pride Lands. But with Kion, Bunga, Beshte, Fuli, and Ono, there's no need to fear. "'Till the Pride Lands' end, Lion Guard defend!"
The DVD is rated TV Y for everyone. It's a "must have" for fans of the TV series.
About the Author
Francine Brokaw has been covering all aspects of the entertainment industry for over 20 years. She also writes about products and travel. She has been published in national and international newspapers and magazines as well as Internet websites. She has written her own book, Beyond the Red Carpet The World of Entertainment Journalists, from Sourced Media Books.
Follow her on Twitter