'The Last Hurrah' now on Blu-ray
Category:
Blu-ray's and DVD's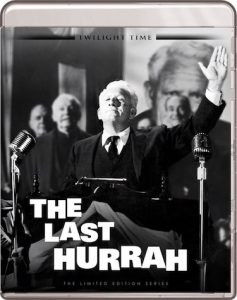 Spencer Tracy stars in this gripping 1958 black and white drama. The Last Hurrah is based on the best-selling novel of the day.
Directed by John Ford, Tracy stars as Mayor Frank Skeffington, a four-time elected official running for his fifth and final time. He's an Irish politician in a New England town that is still honing the divide between Puritans and the immigrants. Frank is a hard-working political boss who is involved with his constituents.
This final campaign is grueling. Amos Force (John Carradine), the editor of the local newspaper, publishes anti Skeffington articles daily. He is backing his opponent, as are the local bankers.
The cast is remarkable. There is Jeffrey Hunter as Frank's nephew who is studying the ways of his uncle, Pat O'Brien, Basil Rathbone, and plenty of other high-ranking actors of the late 1950s.
This is a dramatic look at politics in the 1950s when TV and radio wasn't the way to broadcast information. Today we are bombarded by robo-calls, TV ads, and radio commercials but back then Frank Skuffington felt the best way for him to relate to the people was to be out and about with them. This was old-time politics, and it worked for Mayor Skuffington. He was able to show his people skills without all the fluff and polish we see today.
The movie is two hours long and slow moving. However it is an interesting look at politics and politicians, not to mention political rivalry, which was at its peak in this particular election. And when have we not seen Tracy act brilliantly? His performance is top notch.
There is a message or two woven into the story, as there is in many of Tracy's other films: Guess Who's Coming to Dinner, Judgment at Nuremberg, Inherit the Wind, and more. Whether he's playing a comedic role or an intense dramatic character, Spencer Tracy will always be remembered as one of the greatest actors in Hollywood history.
The Limited Edition Blu-ray from Twilight Time includes a booklet about the film and worth reading. The Last Hurrah is not rated however it is not for children. It's best suited for teens and adults.
About the Author
Francine Brokaw has been covering all aspects of the entertainment industry for over 25 years. She also writes about products and travel. She has been published in national and international newspapers and magazines as well as Internet websites. She has written her own book, Beyond the Red Carpet The World of Entertainment Journalists, from Sourced Media Books.
Follow her on Twitter