The King Cousins 50th Anniversary Summer Pop Concert
Category:
Activities, Performances, & Events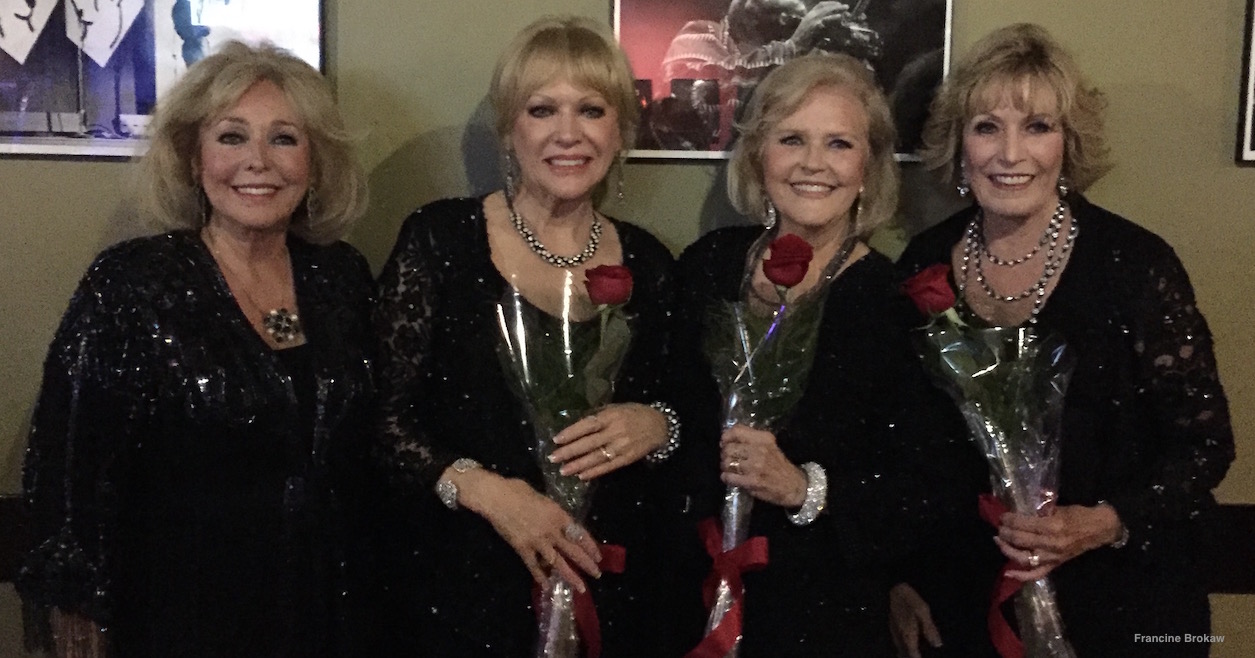 Taking us back in time to the days of vocal harmony and music that actually touched our hearts and minds, The Four King Cousins celebrated their 50th anniversary as a group with a fun concert in Los Angeles. While they have been performing longer than 50 years with the rest of the King Family ("America's first family of song"), it was 50 years ago that these women formed their own group, "The King Cousins."
They were originally the "5 King Cousins" with their other cousin Jamie joining Tina, Cathy, Carolyn, and Candy. Jamie had other plans and the group was whittled down to 4, which they have remained ever since. But the audience at this special 50th Anniversary concert were treated to a surprise. Jamie joined her cousins (and sister Candy) on stage for a couple songs.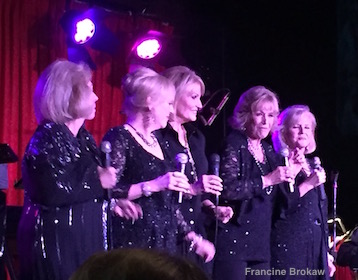 Not only did the audience get the surprise of Jamie, everyone was surprised (including the 4 women on stage) when their younger cousin Cam (who was one of the "King Kiddies" back in the day of the King Family Show), came on stage to present the women each with a red rose and serenade them with "My Best Girls." This was not only touching for those of us in the audience, but it was clear the cousins were deeply moved by his song of love for his older cousins. The closeness of this family has remained through the years and through the generations.
For those of us who remember the King Family Show with the King Sisters, The King Cousins, and The King Kiddies, it's concerts like this that remind us of our past and memories that were made all those years ago yet still remain a big part of our lives.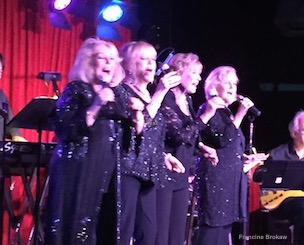 The concert was a meant to bring back "music and memories" to everyone. Beginning with "I love you more today than yesterday" and then moving on to "California Nights," the group covered plenty of songs they have recorded over the years.
When they first formed their cousins group and performed away from the rest of the family, LBJ was president and, as Tina Cole said, "A gallon of gas cost 32 cents." It was a different time and a different world, and through their concerts these women remind us of a time when things were not quite as hectic and a little more musical. Harmony was in and rap, thank goodness, had not become a music genre. The harmony of these three women is absolutely beautiful. They picked up their mesmerizing harmony "through osmosis" by listening to their mothers, The King Sisters.
The King Cousins are part of America's First Family of Song and although The King Sisters are gone, the harmony, music, and memories continue with these four delightful women. On the stage they joke and sing, and it is clear they are very close off stage as well. With the blend of their voices they performed their hearts out and gave the audience a delightful experience that hopefully, will continue for many years.
About the Author
Francine Brokaw has been covering all aspects of the entertainment industry for 20 years. She also writes about products and travel. She has been published in national and international newspapers and magazines as well as Internet websites. She has written her own book, Beyond the Red Carpet The World of Entertainment Journalists, from Sourced Media Books.
Follow her on Twitter