The Jungle Book – Diamond Edition Combo Pack
Category:
Blu-ray's and DVD's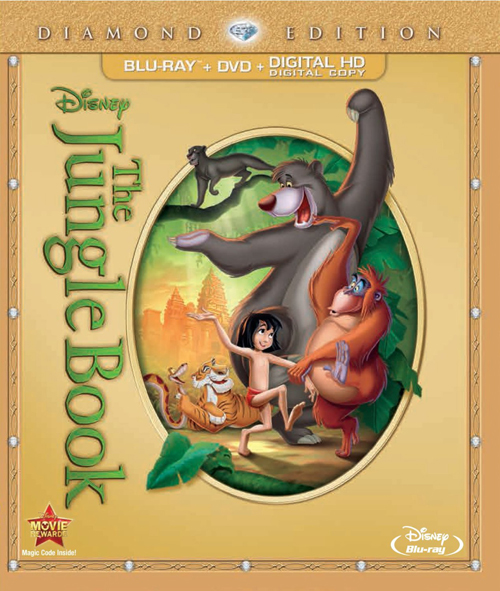 It's time to welcome Mowgli, Bagheera, Baloo, and all the other jungle animals back into your home with the new Diamond Edition of The Jungle Book. Inspired by the classic story by Rudyard Kipling, this is the story of a little boy who was raised in the jungle by animals.
When Bagherra the panther (voiced by Sebastian Cabot) discovers baby Mowgli, alone and hungry, he decides to take him to the wolf pack to care for this little man cub. After ten years living and growing up in the jungle, it's time for the Mowgli to go back to his own kind. But Mowgli doesn't want to go. He's happy where he is, even though Shere Kahn, the tiger, is returning to their side of the jungle and will undoubtedly cause problems for little Mowgli.
When Mowgli meets Baloo the bear (voiced by Phil Harris), he decides to stay with Baloo and live like a bear. Baloo is a fun-loving fellow with an optimistic, if not lazy, outlook. He teaches Mowgli to look for the Bare Necessities in life.
Now, add a spellbinding snake (Kaa) and King Louie and his gang of monkeys, and you have a group of characters with a charming story of love and friendship, mixed together with some pretty lively songs.
But what happens when Mowgli sees the Man Village? Will he want to go back to his own kind? And, well, not to give too much away, he is definitely entranced by one little girl who catches his eye when he's deciding what to do with himself.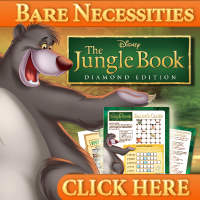 The new bonus features on this edition include an alternate ending, which was recently discovered in the Disney vaults. This scene is storyboarded for viewers so they get an idea of one option that considered for ending the movie, but didn't make the grade. And rightly so. The ending that they selected is perfect for this story, and leads directly into the sequel, which is coming out on home entertainment next month. Other additional features include a day hanging out in Disney's Animal Kingdom in Florida, and some "Bear-E-Oke" to sing along with Baloo and Mowgli.
This is a classic story with a fun cast and some great musical numbers. The Jungle Book Diamond Edition Combo Pack contains a Blu-ray, a DVD, and Digital Copy. It's rated G for everyone.
About the Author
Francine Brokaw has been covering all aspects of the entertainment business for 20 years. She also writes about technology and has been a travel writer for the past 12 years. She has been published in national and international newspapers and magazines as well as Internet websites. She has written her own book, Beyond the Red Carpet: The World of Entertainment Journalists, from Sourced Media Books.
Follow her on Twitter
Like her on Facebook