The Judge on Combo Pack
Category:
Blu-ray's and DVD's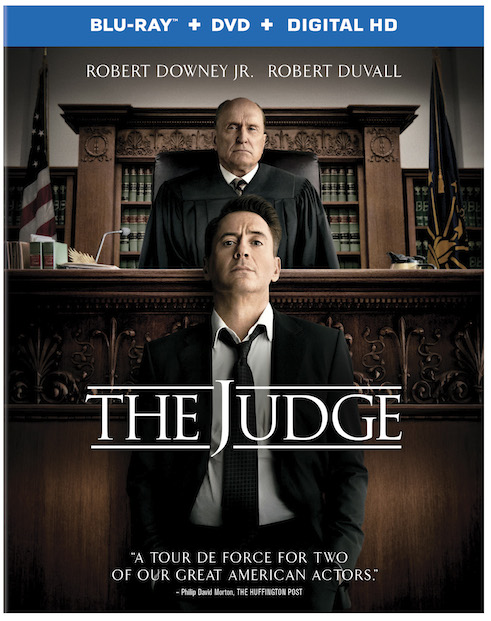 The Judge is a movie that has been making the rounds at film festivals and awards shows. The acting is phenomenal and the story is thought provoking.
Robert Duvall and Robert Downey Jr. star in this intense drama about relationships. This is not a story about a court case. This is not a story about lawyers. This is a story about relationships between people – between brothers, between lovers, and between a father and his son.
Hank Palmer (Downey) is a Chicago lawyer with little scruples. He is good at his job because all he cares about is winning. Hank grew up in a small Indiana town where his father Joseph (Duvall) is the judge, and is a no-nonsense, hard-nosed man. Hank has no good memories of his father. Well, almost no good memories. He fled the small town and has been estranged from his family for decades. But when his mother suddenly dies, he comes back and confronts his past.
What Hank discovers when he returns is that nothing has changed. But things do change. During the course of the film Hank – and indeed everyone – learns more about their relationships, why Joseph treated Hank the way he did in the past, why Hank and his older brother have the relationship they do, and why Joseph is behaving the way he is. Joseph is getting forgetful, but has he returned to drinking or is there something more going on?
When Joseph, aka "Judge", is arrested for running down a bicyclist, he has no memory of the event. It is up to Hank to come to his rescue, to the reluctance of his father. Hank is a phenomenal lawyer, and the Judge needs the best he can get.
Billy Bob Thornton plays the prosecuting attorney, Dax Shepard is the local attorney who is on Joseph's team, Vera Farmiga is Hank's former girlfriend, Ken Howard is the judge presiding over the trial, Jeremy Strong is Hank's mentally challenged brother, and Vincent D'Onofrio is Hank's older brother. This is a fabulous cast.
The acting is top rate but the story is slow, deep, and depressing. To put it bluntly, it is intense. This is not something for everyone. This is definitely not for children. But this is a film that shows the acting talents of both Duvall and Downey. Robert Duvall is nominated for an Academy Award and has been nominated for many others during this awards season and has won several awards already. The movie won the "Truly Moving Picture Award" at the Heartland Film Festival.
The Combo Pack includes a DVD, Blu-ray, and Digital Download, as well as several bonus features including deleted scenes and a look at the story.
Bring home The Judge on Blu-ray Combo Pack, DVD, and Digital HD beginning January 27th
The Judge is rated R for language including some sexual references.
About the Author
Francine Brokaw has been covering all aspects of the entertainment business for 20 years. She also writes about technology and has been a travel writer for the past 12 years. She has been published in national and international newspapers and magazines as well as internet websites. She has written her own book, Beyond the Red Carpet The World of Entertainment Journalists, from Sourced Media Books.
Follow her on Twitter
Like her on Facebook