The Jack Ryan Collection on Blu-ray
Category:
Blu-ray's and DVD's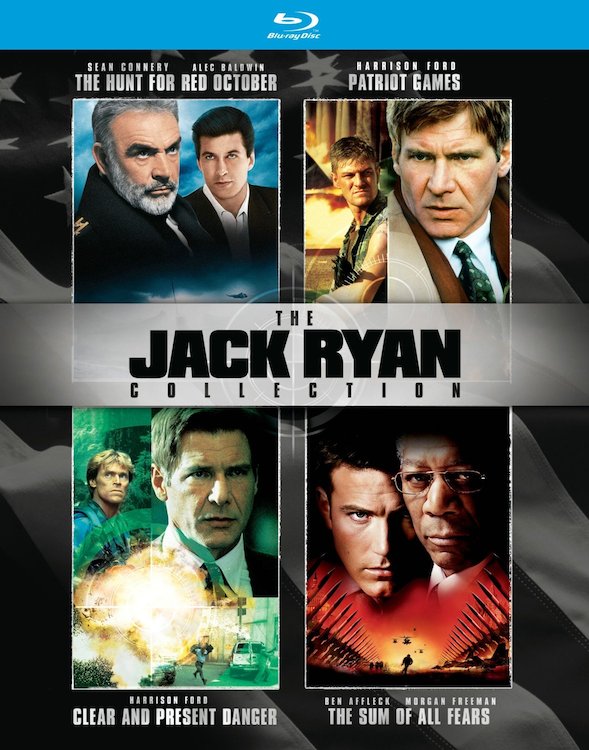 The newest incarnation of the Tom Clancy character Jack Ryan is Jack Ryan: Shadow Recruit with Chris Pine playing the iconic character. There have been 4 other films about the CIA agent, which now make up The Jack Ryan Collection on Blu-ray.
The four films in this box set collection are:
The Hunt for Red October, a 1990 film with Alec Baldwin playing Ryan. Sean Connery, Scott Glen, James Earl Jones, and Sam Neill, along with many others make up the cast of this intense submarine movie. Gates McFadden plays "Caroline" Ryan, aka Cathy Ryan in the future films. The Hunt for Red October is rated PG.
Patriot Games was released in 1992, with Harrison Ford playing the CIA agent whose family is put in danger. Anne Archer plays Cathy Ryan. Patriot Games is rated R for violence, sexuality, and language.
Two years later, in 1994, Harrison Ford reprised the role of Jack Ryan in Clear and Present Danger, a story about a drug cartel and a government conspiracy. Willem Dafoe costars, and Anne Archer returns as Cathy Ryan. Clear and Present Danger is rated PG-13 for some intense action/violence and language.
And finally, The Sum of All Fears, a 2002 Jack Ryan movie, has Ben Affleck taking his turn in the role of the CIA analyst in this story of a threat of nuclear disaster. James Cromwell and Morgan Freeman co-star. Bridget Moynihan plays Dr. Cathy Muller, the future Mrs. Jack Ryan. The Sum of All Fears is rated PG-13 for violence, disaster images, and brief strong language.
Best-selling writer Tom Clancy originally penned each one of these stories. The Jack Ryan Collection is packed with the Tom Clancy action we have come to expect from this celebrated author who passed away last year.
If you're looking for a Valentine's Day gift for your hubby or someone else, this could fit the bill. It's also available in a DVD set.
About the Author
Francine Brokaw has been covering all aspects of the entertainment business for 20 years. She also writes about technology and has been a travel writer for the past 12 years. She has been published in national and international newspapers and magazines as well as Internet websites. She has written her own book, Beyond the Red Carpet: The World of Entertainment Journalists, from Sourced Media Books.
Follow her on Twitter
Like her on Facebook