The Irresistible Blueberry Bakeshop & Café by Mary Simses – Book Review
Category:
Books and Music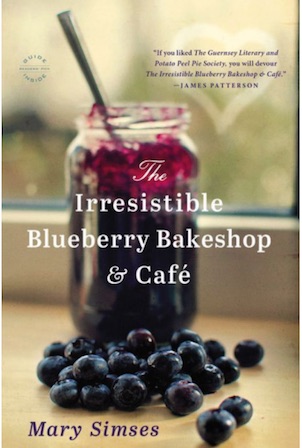 Mary Simses' novel The Irresistible Blueberry Bakeshop & Café is a captivating story of one woman's discovery about her family and herself. The story is enchanting and the writing brings readers right into the tale of Ellen Branford, a Manhattan attorney engaged to Hayden, another attorney climbing the political ladder. They seem to have their future planned out until Ellen's grandmother dies leaving her with a letter she wants delivered to someone in Maine.
Ellen takes off for the quaint little town of Beacon, Maine to fulfill her grandmother's last wish. She attempts to locate the man to which the letter is addressed, but just cannot find him. What was supposed to be a day or two in Maine turns into many more days as Ellen slowly discovers things about her grandmother's past.
Little did she know that her beloved grandmother was an accomplished artist. And little did she know that her grandmother left the love of her life in Beacon to attend art school and eventually meet and marry Ellen's grandfather. The life of her grandmother before she got married was a complete mystery to the family. Slowly she uncovers pieces of her past.
But that's not all that happens in this small town. Through a chance encounter – in which Ellen nearly drowns – she meets Roy, who rescues her from the undertow and eventually befriends her. The two of them discover their pasts are linked. At least her grandmother and his uncle were linked. Roy's uncle Chet Cummings was the man the letter was addressed. He was the man Ellen's grandmother had once loved and who loved her. They had planned on spending their lives together on the blueberry farm. But things happened to change their future.
As Ellen and Roy discover things about their family's past, Ellen begins to learn the lesson that her grandmother had experienced. Sometimes things happen to change the path we are on. Sometimes our hearts are set on one path but we discover they belong on another one.
The novel was turned into a Hallmark Channel movie titled "The Irresistible Blueberry Farm" starring Alison Sweeny, Carolyn Jones, Mark Blucas, and Kavan Smith.
"As I read Mary Simses' novel, The Irresistible Blueberry Bakeshop & Cafe, the storyteller in me was excited to bring the characters and their journeys to life," said executive producer and star, Alison Sweeney. "The actress in me fell in love with the protagonist, Ellen Branford, and the producer in me couldn't wait to transform the written word to television. Everyone worked so hard to bring this book to life and I'm really proud of how it has turned out. It's a great ROMCOM that hopefully everyone will enjoy!"
The novel will draw you in from the beginning. It is a charming and beautifully written story of family, love, and destiny. Oh, and blueberries!
The movie can be seen in reruns on Hallmark Channel October 17 and 19.
About the Reviewer
Francine Brokaw has been covering all aspects of the entertainment industry for over 20 years. She also writes about products and travel. She has been published in national and international newspapers and magazines as well as Internet websites. She has written her own book, Beyond the Red Carpet The World of Entertainment Journalists, from Sourced Media Books.
Follow her on Twitter