'The Intern' on Combo Pack
Category:
Blu-ray's and DVD's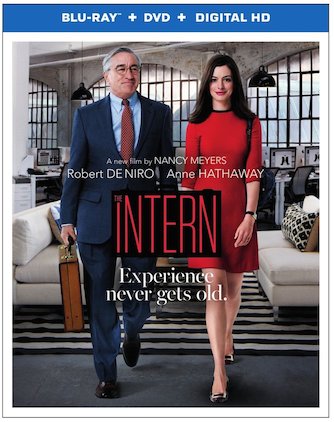 The Intern is a charming story of friendship and admiration between two very different people. It is a story of experience, learning, learning from experience, women in business, success, and ultimately making dreams come true.
Robert De Niro is enjoyable to watch as a 70-year-old widower/retiree who goes back to work to add some meaning to his life. Ben (De Niro) has been retired for years. He has traveled and visited his family, however he feels a bit empty. So, when he sees an ad for a senior intern at a successful start-up Internet company, he decides to apply.
Jules (Anne Hathaway) is a no-nonsense businesswoman who started the Internet fashion site and it is her heart and soul. Well, she does have to balance her time and commitment between her company and her family. Her daughter Page (JoJo Kushner) is adorable and frankly the scenes with her and De Niro are priceless. But Jules is finding her husband Matt (Andrew Rannells) might be getting bored being a stay-at-home dad. Besides looking at the personal relationships within the movie, the success of women in business is also a focal point.
Ben is the oldest person at the company. He doesn't conform to their "style." He continues to wear his suit and tie every day, carry his "classic" briefcase, and even a handkerchief. While learning the new ways of the world – Facebook, etc. – Ben manages to impart his old ways on the staff, who see him as a personable man from whom they can learn how to conduct themselves. They might know about technology, but he knows about so much more. He advises his fellow interns to "dress to impress." He knows about relating to people and he understands them. Perhaps it is because he takes the time to really see and listen, which is something the young workers don't really do.
The Combo Pack includes a DVD and a Blu-ray as well as a digital copy code. Bonus features look at how the film and the cast related to the experience Ben –and De Niro – brought to the team, and how Myers pulled together a cast of young millennials and combined them with the experience of De Niro.
The final bonus feature focuses on the look of the film. All the sets are simple and elegant and pleasing to the eye. Nancy Myers has her ideas of how her films should look. Her style transforms onto the screen with the architecture and costumes she feels fits her stories and characters. They are definitely part of the visual narrative of the movie.
The final bonus feature looks at the other three male interns who were hired at the same time. Lewis (Jason Orley), Davis (Zack Pearlman), and Jason (Adam Devine) are twenty-somethings who each learn lessons from Ben and the actors learn from De Niro. And the scene with the four men in the car is downright funny.
The movie is an enjoyable story for everyone from twenty-something to seniors. The tender moments between Ben and Jules are perhaps the most memorable of the film.
The Intern is rated PG-13 for some suggestive content and brief strong language.
About the Author
Francine Brokaw has been covering all aspects of the entertainment industry for 20 years. She also writes about products and travel. She has been published in national and international newspapers and magazines as well as Internet websites. She has written her own book, Beyond the Red Carpet The World of Entertainment Journalists, from Sourced Media Books.
Follow her on Twitter